Combating climate change on campus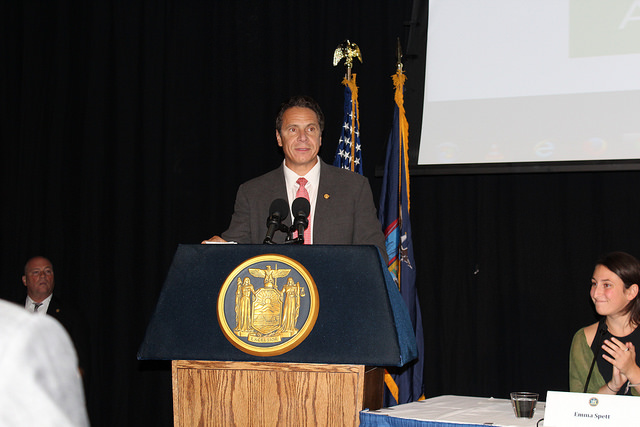 Governor Andrew Cuomo speaks at New York University's Action on Climate forum, a panel discussion presented by NYU's umbrella environmental organization Earth Matters NYU and Know Tomorrow, a student led campaign to demand action on climate change taking place on campuses nationwide. Photo by Elizabeth Arakelian
College students across New York will now have the opportunity to compete to earn $1 million for environmental efforts at their school Governor Andrew Cuomo  announced at New York University yesterday.
Cuomo spoke at the university's Action on Climate forum, a panel discussion presented by NYU's umbrella environmental organization Earth Matters NYU and Know Tomorrow, a student led campaign to demand action on climate change taking place on campuses nationwide. The event, planned during Know Tomorrow's National Day of Action, was created with the goal of finding tangible means of addressing climate change, said Earth Matters President Emma Spett.
Cuomo's announcement fulfilled that goal.
"Take the challenge," Cuomo encouraged students at the discussion. "Show people what can be done. If you show them what can actually be done and that it is possible, you will then have the support you need to get it done."
The governor's clean energy competition will require students to compose a plan to increase energy efficiency, reduce carbon emissions, and increase renewables for their school. The three best proposals will receive $1 million each "granted gratis by the green bank of the state of New York" said Cuomo.
Technically, the money will be administered from the Renewable Energy Vision Campus Challenge, an initiative started by the governor to recognize and support the colleges and universities leading in the clean energy transformation.
There will be naysayers though, warned Cuomo, who has faced many himself by placing climate change as one of the major issues at the forefront of his incumbency. Fellow speaker and executive director of the Waterkeeper Alliance, a organization dedicated to clean waters worldwide, Marc Yaggi touted Cuomo's investments in renewable energy and the headway he has made to combat climate change, such as banning fracking in New York state last year.
"Governor Cuomo… has gained a reputation of standing up to lobbyists and influence peddlers and being willing to put the common good above special interests," said Yaggi. "Nowhere is this more evident than in his steadfast defense of our environment and natural resources."
While success has been made from the viewpoint of supporters of climate change reform, the topic has posed a major threat to the livelihoods of many traditional power and utility companies. Cuomo also pointed out that while climate change is largely accepted by liberals, conservatives still consistently question its legitimacy.
"The conservatives like to say that the climate change is just a political blather, just something that Democrats use to motivate voters, really," said Cuomo. "Well, then Pope Francis is running for office because he said last week climate change could threaten the very existence of the human species."
Cuomo's father and former governor Mario Cuomo had 11 federally declared emergencies in his 12 years in office.
"I've been governor in just over four years. I've already had nine," said Cuomo.
While both Yaggi and Cuomo cited ways in which New York is leading the fight against climate change on a national scale, the general consensus at the Action on Climate forum is that there is still more work to be done.
Priya Mulgaonkar, 22, is an NYU alumnus and campaign organizer with Environment New York, a citizen funded statewide advocacy group. During the panel discussion, she  and others waved a yellow sun made out of cardboard in the crowd that read "20% by 2025." The advocacy group is pushing for more conservation.
"Right now we are urging Governor Cuomo to commit New York state to 20 percent solar energy by 2025 to basically make a strong statement for climate action and to allow for specific policies to flourish," said Mulgaonkar.
One such policies include expanding the market for solar energy by removing subsidies from fossil fuel companies and giving funds to smaller solar businesses so that they can provide more energy at a lower cost to communities, business, and homeowners.
"I'm very much an active alumnus of NYU," said Mulgaonkar. "As an organizer my job is to activate people who care about this issue, but don't know how to make a difference on it. So, by something as small as holding up a cute little sun at a talk by the governor, we're engaging in politics and we're making a difference on climate which is what he is here to talk to us about."