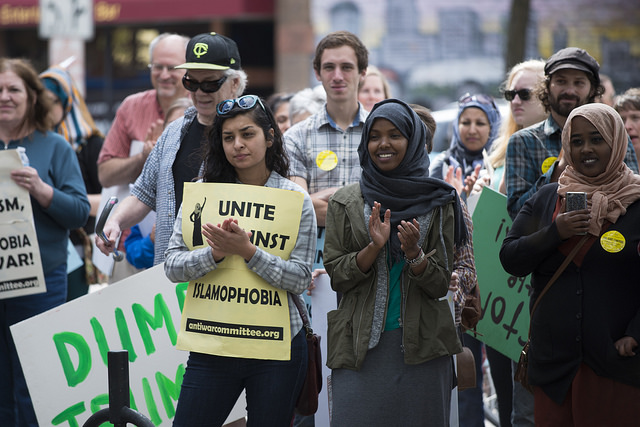 About 200 people gathered in east Minneapolis for a rally and march to denounce hate speech and hate crimes against Muslims. They marched to a nearby Republican Party office to denounce the rhetoric of GOP presidential candidate Donald Trump. Protesters also denounced government surveillance of the Somali community. Photo by Fibonacci Blue
Harsh words about many groups including LGBT people, the disabled, African Americans, Hispanics and women have been at the forefront of this campaign season. Muslims have been particularly under fire amid the slew of terrorist attacks both abroad and domestically. Republican nominee Donald J. Trump's call for a ban on Muslims entering the US has helped unite Muslim communities and inspire voters to voice their opinions.
"I'm calling for a total and complete shutdown of Muslims entering the United States until our country's representatives can figure out what is going on," Trump's campaign said in a release in December 2015. Trump later said his ban would, in fact, be temporary. "It's a temporary ban. It hasn't been called for yet. Nobody's done it," he said on Fox News Radio in May. Trump's rhetorical attack on a Muslim family whose son was killed in Iraq while serving in the U.S. military, and his willingness to consider closing down American mosques have added to the turmoil in Muslim communities.
Egyptian-American Yasmeen El-Shakh, a 21-year-old Rutgers University student, believes Trump and his stance on Muslims threaten the fabric of American society. "I feel it is deeply unconstitutional," she said. "It goes against everything the US stands for which is the idea that your religion shouldn't be a factor into how you are treated in the US, a country founded on religious freedom."
El-Shakh is part of a larger Muslim community that has spoken out against Trump and his attacks on the Islamic religion. The Council on American-Islamic Relations (CAIR) has criticized Trump's rhetoric, highlighting a few points about Muslims, including the proposed ban on Muslims entering the US, on its website. CAIR is also providing forums for Muslim Americans to voice their opinions on the upcoming election and address any specific concerns for their community.
Zogby Analytics, an independent pollster, conducted a survey asking Arab Americans who they plan to vote for on Election Day. The survey found 12 percent of Arab-Americans support Trump, while 67 percent are rooting for Democratic nominee Hillary Clinton to become the next president. "The poll found that a majority of Arab Americans identify with the Democratic Party, the highest percentage since the 2008 presidential election," Jim Zogby, founder of Zogby Analytics wrote on his website.
While the Zogby poll found that the majority of Muslims support Clinton, the Trump campaign has done little to attract this increasingly important voter bloc. According to the Hill, a top US political website, Trump's foreign policy advisor Walid Phares did reach out to popular Muslim Republicans back in May urging them to organize for Trump. However, the outreach from the Trump campaign to gain support from the Muslim community has been anything but successful.
According to the US Census, there are roughly two million Arab Americans living in the US, and the Arab American Institute says 91 percent are planning to vote on Election Day. The Institute says, "Arab Americans live in all 50 states, but two thirds are concentrated in 10 states; one third of the total live in California, New York, and Michigan." With such a direct attack on more than two million individuals, the Arab American community is speaking out.
American Muslim Political Action Committee (AMPAC) and the Arab American Institute are working to empower the Arab and Muslim vote in the US. Jennifer Salan, communications head at the Arab American Institute, wants to enable Arab Americans to make their voices heard. The Institute created the "Yalla Vote" initiative, meaning "Go Vote" in Arabic, to help Arab-American communities make a difference and voice opinions. The Institute is bi-partisan and has not endorsed a candidate but is generating excitement for the Arab community. "We host registration events at mosques, churches, college campuses and restaurants to engage everyone in the community," Salan said, adding that "we are all stronger when we are all engaged and active in our communities."
This year, the Arab American Institute is launching a 'Yalla Vote' hotline to respond to any voting questions prior to Election Day. "We at the Arab American Institute are doing our part to ensure that Arab Americans are registered, organized, informed and ready to cast their ballots on November 8th," said Salan.
Faizan Riaz, a 22-year old student at Georgetown University, believes the "Yalla Vote" initiative is a good way to engage communities. "As a Pakistani Muslim, I find that especially in this election, it's important to get out and vote and not just sit back and complain about the outcome," he wrote in email. Riaz believes Trump and his proposed ban on Muslims further divides Americans and marginalizes minorities. "It really comes down to the fact that his rhetoric inspires so much hate and that some people don't even notice," he wrote. "It kind of reminds you of how the Japanese were feeling during WWII [World War II] or even the beginning of the rise of Hitler. You don't know what'll happen but you just feel this animosity around you sometimes that makes you scared to be where you are."
While Muslims around the world are weighing in on the upcoming US Presidential Election, there is no question there is a sense of animosity among Muslim communities towards Trump's campaign. As the election nears, Trump's campaign will be put to the test to see if marginalizing this minority group will cost him the election.