Harlem's beauty industry reflects real estate development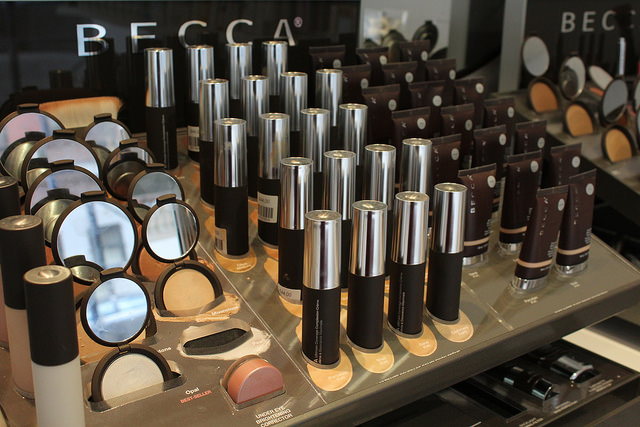 High-end makeup brands such as Becca are available at Vivrant Beauty. Photo by Eugene Y. Santos.
As Manhattan real estate development further goes uptown, it seems that Harlem is gearing up to be a more upscale beauty hub, with chicer salons, boutiques, and spas increasingly setting up shop in the area.
At a glance, this looks like a picturesque business opportunity for any beauty and grooming service provider. But in Harlem, where affordable mom-and-pop stores are abundant, some locals and entrepreneurs aren't enthusiastic about the neighborhood becoming the next downtown Manhattan.
"Harlem is going through a 'neo-colonialization' phase," said Fisher Nesbitt, a barber for Fresh Looks Barbershop along Frederick Douglass Blvd., where haircuts still go for as low as $10. "There's a big gentrification going on, like rent is becoming higher. A 7-Eleven just opened on 145th st. and I think it's a bad thing. Harlem is all about mom-and-pop shops and they are the backbone of people's survival here. Harlem is all about the small guys."
Service providers such as beauty parlors have long been part of Harlem's culture. In the early 1900s, a lot of black Harlemites operated home-based salons, which required little capital. These businesses not only provided income, but also became community-centric spots where clients and hairstylists can gossip and even sell other sundries, such as show tickets.
It's somehow different today. While mom-and-pop salons and businesses still operate in Harlem, the area has also welcomed more upscale beauty enterprises to cater to a younger, more diverse clientele.
Harlem native Desiree Verdejo is one of them. Growing up in the area, she said that beauty retail was just limited to local beauty supply stores and drugstores. Harlemites who wanted to buy premium beauty products had to shop in other neighborhoods.
This observation is the primary reason why Verdejo decided to open Vivrant Beauty , a boutique along Saint Nicholas Avenue that carries higher-end makeup and skincare brands like Becca and Mario Badescu.
"Harlem people are really committed to shopping in their own neighborhood," said Verdejo. Since opening in July 2015, Verdejo has seen customers of different races and demographics, from working professionals to students from Columbia University. "Harlemites like to support Harlem businesses."
Desiree Verdejo of Vivrant Beauty from Pavement Pieces on Vimeo.
Vivrant Beauty is part of Harlem's contemporary beauty movement. In the past few years, more upscale beauty shops have been opening in the neighborhood, operating on the logic that Harlem's residents don't need to travel far now for premium services.
For Abraham Tejada, what's happening now is that Harlem is getting a taste of tony downtown Manhattan.
"The situation adds more value to this area," said Tejada, an assistant manager for Fumic Jewelry Nails, a nail salon along 116th street that offers artisanal Japanese-style gel manicures and pedicures. "The real estate boom has affected the retail sector, that there is more demand now for service-oriented establishments."
Crediting commercial and residential developments uptown, real estate in Harlem has become pricier than before.
"Eleven years ago, retail rents on Frederick Douglass Boulevard averaged $60 per square foot," said Faith Hope Consolo, chairman of Douglas Elliman Real Estate's retail group. Rents now have increased to $100 per square foot, and that's even on the low end.
"Harlem has a very different demographic today than a few years ago though the development happened on a slow and steady basis," said Consolo. "The profile of Harlem's residents spiked in wealth since 2008, and in the past three years, new developments are coming in at a record pace."
But for savvy entrepreneurs, retail rent is still more affordable in Harlem compared to downtown and midtown Manhattan. Aesthetician Alita Terry knew that she couldn't pass an opportunity to expand her business in Harlem.
Terry, the founder of Ethereal Aromatherapy and Skin Care, which operates twice a week at Land Yoga along Frederick Douglass Boulevard since July, said that business has been good so far uptown.
"My customers here in Harlem are usually moms or grandmas. It's a very family-oriented place," said Terry, whose customized facials range from $55 to $95. "I feel like my clients here uptown are very open and curious. They want to know what bespoke skincare is about, where I analyze a person's skin and make something for him/her out of my assessment. It's something new for a lot of them. It's the kind of creativity and service they would expect downtown, and now it's available uptown."
But not all people are happy about Harlem's further burgeoning beauty business scene.
"It's hard. It has become more competitive," said Sarah Ahn of Jireh Nails Plus+ along 116th street. "Eight years ago, there were only a few of us beauty salons here but now there's a lot. I also feel that rent will go up in the future. I don't think I'll lower my prices for my services though. I'll try to keep them affordable if I can." Ahn's waxing services range from $10 to $45.
If Nesbitt were to have his way, he would increase the prices of his haircutting services, if only to make ends meet in Harlem now. "Downtown, haircuts go $30 to $40 each while here, we just charge $20," he said.
"Some people in Harlem are paying $2,500 to $3,000 for an apartment which 10 years ago was just 700," said Nesbitt. "It has become unaffordable for a lot of us. I think prices here are going to go up. I think what the local city government wants for the city is for it to become affluent all throughout. They [government] don't want poor people."
Nesbitt thinks that it's only going to get worse. "Once prices go up, they're never going to go down," he said. "I'm paying 1,250 for a one-bedroom apartment which in South Carolina, can get you a really big house for 6,000 square foot."
Verdejo seemed optimistic on beauty retailing in Harlem. "Harlemites like to support Harlem-based businesses," she said. "So far, it's good that people have come in and we've had repeat customers."
But to say that Harlem has become "better" isn't exactly apt. "I wouldn't use that word (better)," said Verdejo. "Some people can take advantage of a nice sushi restaurant or an organic facial but for some people on the other hand, the situation now has made it harder for them because rent has become higher. I wouldn't say that it's 'better' but it's definitely a changing phase. I'm just trying to contribute something positive but being a Harlem native, I've had conversations on the other side about things that may not be helpful for some."
For Terry, one has to be smart about a sensitive topic like gentrification. "You can take advantage of this change but you also have to understand that Desiree and I are in our 30s so the change doesn't affect us the same way as it will for someone in his/her 60s who's lived his/her whole life here in Harlem," she said. "I know someone who owns a bakery in Harlem who just made his first insane amount of profit recently after being in business for 16 years. If you're smart, you can work it out. I'm not saying it's going to be easy because it's tricky but if you can take advantage of it, you should."
From the looks of it, real estate development is just going to continue. Consolo said that developers are now eyeing East Harlem, with the area near 125th st Metro North seen as a huge prospect. Real estate mogul Joseph Sitt of Thor Equities recently bought two large retail properties along Lexington Avenue for $75.5 million, and the city government has zoned a commercial area on a 7,000 square foot empty lot at 126th street and Third Avenue.
"Regarding residential development, there are several coming in line, including a 12-storey, 44-unit mixed-use building at 94 East 111th street at Park Avenue," added Consolo. "There's also affordable housing at 413 East at 120th street."
Nesbitt felt despondent about what's happening in Harlem, with all the high-end projects in the pipeline and with a lot of Harlem natives being pushed out of their own neighborhood. "I just hope they [developers and city government] keep the culture intact and the prices reasonable," he said.