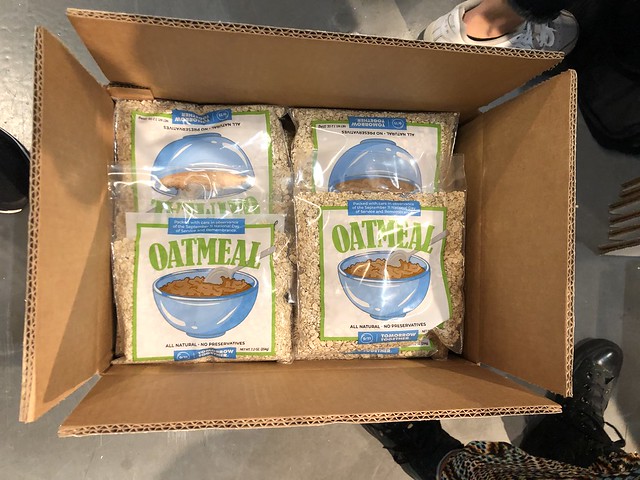 On 9/11 Day at the Intrepid Sea, Air & Space Museum, groups of volunteers must pack 48 bags of oatmeal into a box. One bag of oatmeal provides up to six meals. Photo by: Maureen Mullarkey
On September 11, 2001, nearly 3,000 people lost their lives in the terrorist attacks. Exactly 18 years later, almost 4,000  gathered in their honor, as part of the 9/11 Day of Service at the Intrepid Sea, Air & Space Museum. 
This National Day of Service and Remembrance event  today was in partnership between non-profit organizations 9/11 Day, Feeding Children Everywhere, and the Corporation for National Community and Service.
"I was here the day of 9/11 and it was such a devastating day," said Tracy Stein  of the UJA Federation of New York. "So the idea that we can come together in as New Yorkers common cause  to do something good and important is really gratifying and it just makes the day more bearable to helping others."
From 8 am to 8pm, volunteers from over 40 companies, interfaith groups, and organizations worked in two hour periods. At the beginning of every shift, religious leaders from multiple faiths provided a blessing for the volunteers, as well as a moment of silence for those lost. 
Special guest performances also performed to unite and inspire the crowd, including the cast of the Broadway musical Come From Away. The show tells the story of when 38 planes  and thousands of passengers were diverted to the town of Gander, Newfoundland on September 11, 2001.
"The people of Gander opened their hearts and their homes and they gave everything," said co-writer David Hein. "We were New Yorkers at the time when my wife and I wrote the story, and we remember those days as seeing kindness in New York in response to that. And when we went out to Gander to interview everyone for the show, we realized that like Mr. Rodgers said, when his mother said there were scary things on TV that you should always look for the helpers. And what we saw in Gander, we said there were the helpers in the world on that day and that we could be the helpers as well."
Despite the long hours, volunteers kept in high spirits. Some participated in friendly competitions, dancing along to a DJ's upbeat music as they packed bags of brown-sugar oatmeal.
"We have a great volunteer base," said Sarah Davila, Public Relations Manager for Feeding Children Everywhere. "We have an amazing team, good energy, good attitude."
The packaged food will be donated to City Harvest, reaching about 1.2 million people, and about ten thousand meals will be sent to victims of Hurricane Dorian in the Bahamas.
Jorge Garcia of Forest Hills Queens knows what it's like to be on the receiving end of kindness.
"Being a veteran myself, I know how much it means – when we used to receive care packages of this nature, it meant so much to us," Garcia said. "Like someone does care, someone's out there thinking of us. So I want to be able to give that back to them. And I bring my daughter now, she helps out, too."
For some volunteers, 9/11 Day is not only an annual tradition, but a global commitment.
"This is my second year. I drove down from Canada and my son flew in from Lisbon, Portugal," said Maureeen Basnicki, who works with the Canadian consulate and  lost her husband on  9/11. "It's a national day of service in Canada and it's gaining momentum as well."
The event took also took place in seven other cities throughout the country,  including Chicago, Los Angeles, San Francisco, Dallas, Atlanta, St. Louis and Phoenix. Together, over five thousand volunteers will have participated in the federally-recognized September 11 National Day of Service and Remembrance.
"Whether we're remembering those who served our country, or just remembering the first responders,firefighters, police. – it really doesn't matter what nationality you are, it's the combined spirit of doing it," said Basnicki.
"The best legacy that we can leave for our loved ones is to honor their life by doing acts of service."