The stars come out for Little Italy's Feast of San Gennaro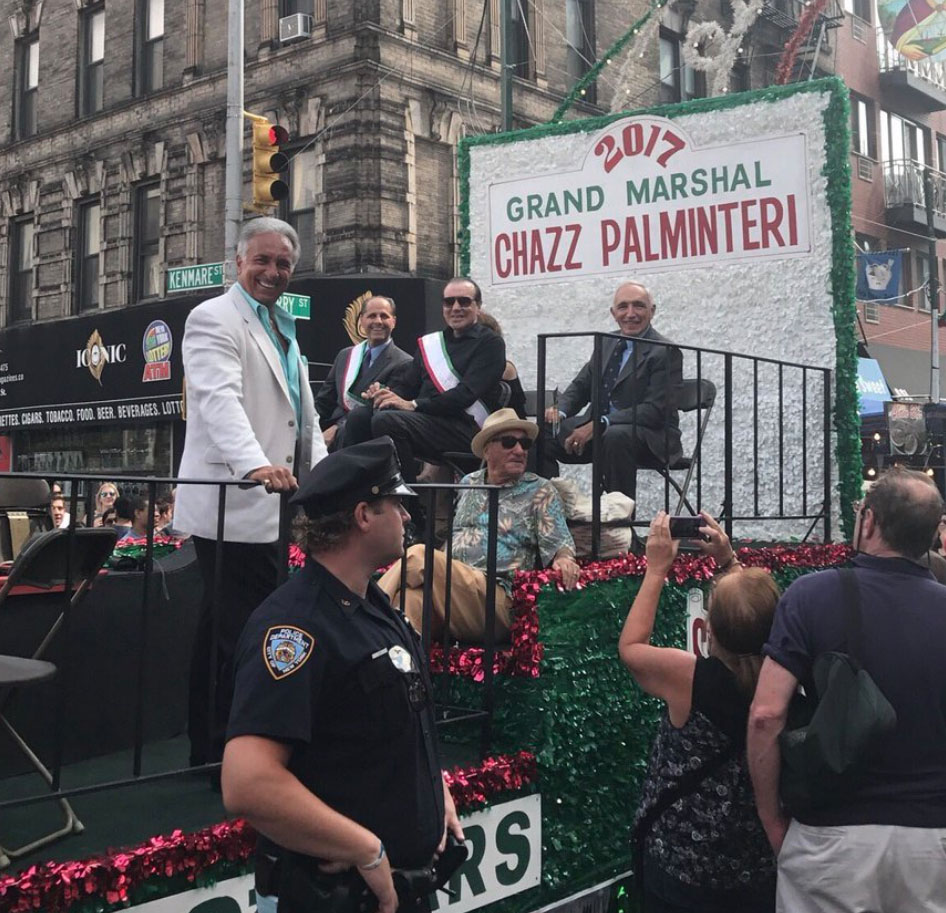 Actor and writer Chazz Palminteri was the Grand Marshal of the 91st Annual Feast of San Gennaro in Manhattan's Little Italy. Photo By Lauren Garry
Among the sea of people and through billowing clouds of smoke from hot griddles, a familiar face smiled and waved to passersby. Tony Danza, actor and co-owner of Alleva Dairy, served Italian specialties to customers in front of his store on the corner of Mulberry and Grand Streets, one of the many restaurants that participated in the 91st Annual Feast of San Gennaro in Manhattan's Little Italy.
"No one understands the amount of effort that goes into putting on the festival," said Danza, clad in an Alleva t-shirt and disposable vinyl gloves. "Everyone puts in so much time and so much effort for the 11 days, and four days of setup before, so 15 days!"
Alleva Cheese had no need to shout to gain people's attention, as visitors flocked to the street stand to get a glimpse of Danza, 66, at work. The "Who's the Boss?" and "Taxi" star said he was going to work the stand each day during the festival. Danza can often be found working the cash register at the little cheese shop which calls itself "the oldest cheese shop in the nation."
Meanwhile a photo with Danza was a bigger draw than the cheese. Danza, a native New Yorker, paused to take photos with fans in between serving pasta, meat and cheese.
Days before the Feast, Danza posted a photo to Instagram of himself serving sausage and peppers at the Alleva Cheese stand in 2016. He became a co-owner of the cheese shop four years ago.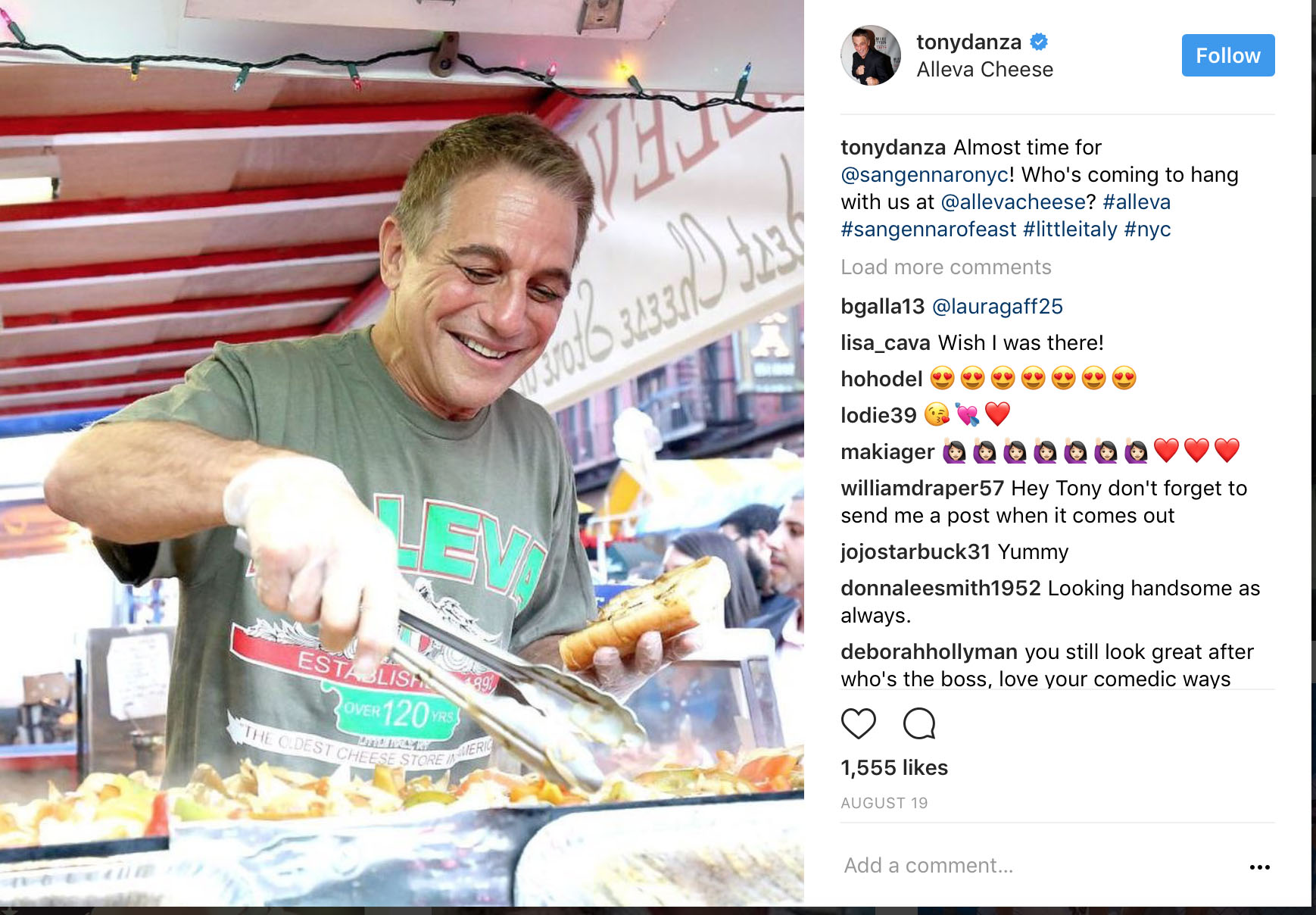 Danza wasn't the only celebrity sighting at the Feast. Chazz Palminteri, writer and Academy Award-nominated actor, was this year's Grand Marshal.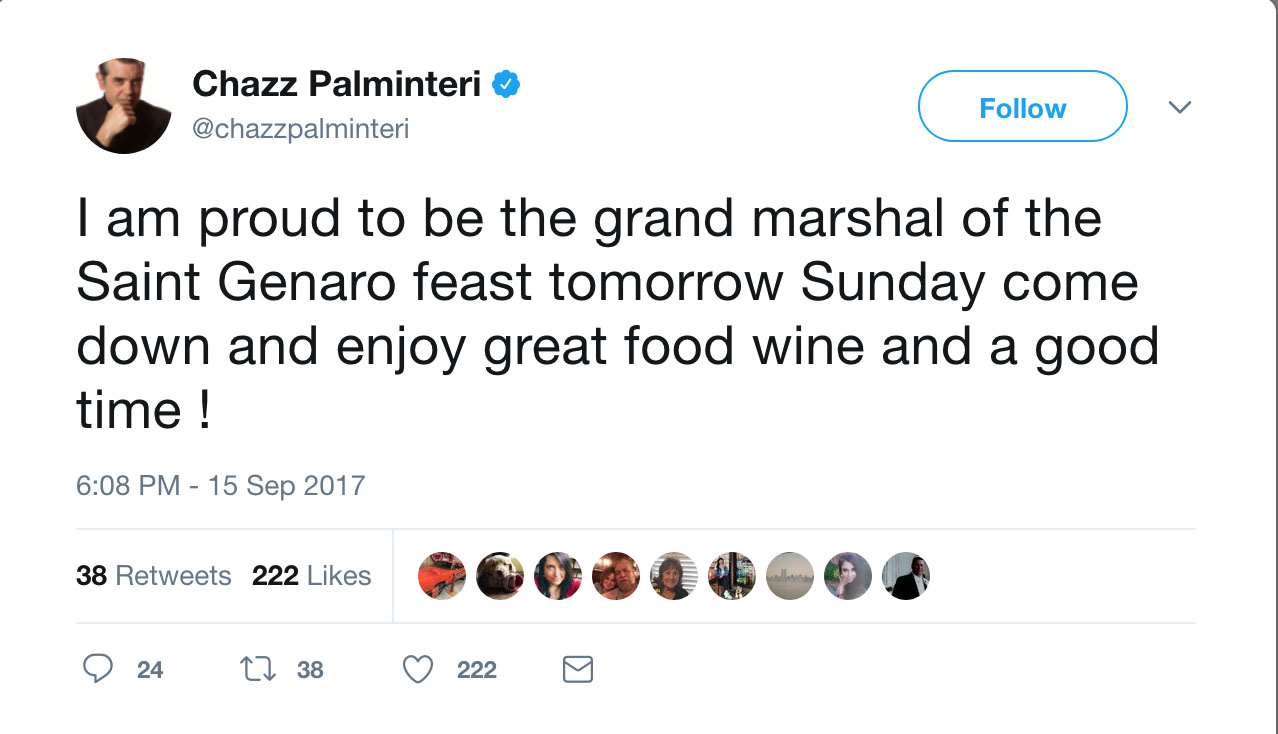 "Now yous can't leave!" Many spectators shouted at Palminteri who rode on the Figli Di San Gennaro, Inc. float, which led the parade yesterday.  The line was uttered by, Sonny, a character made famous in the film he wrote and starred in, "A Bronx Tale."
Palminteri laughed and waved back as the float carried him down Mulberry Street.
After the parade, Palminteri took a photo with NYPD officers that he tweeted to his 55.9 thousand followers, captioned, "With NYPD at the Saint Genaro feast on Mulberry Street – may God Bless them."
Smells of Italian cuisine permeated the area as visitors enjoyed the copious amounts of food and browsed stands full of gold jewelry, clothing and collectibles. The 11-day feast hosted hundred of vendors and honored the patron saint of Naples.
"For some, they make a whole year's salary during the Feast," said Rob Cervoni, 29, from Roslyn, Long Island. This was the first year the New Yorker parked his 16 Handles mobile trailer in the row of vendors at the festival. "This is one of the greatest feasts in the world, and one of the biggest," he said pouring frozen lemonade for a customer through the trailer's serving window.