Protesters at the Metropolitan Detention Center held up a sign letting inmates know that they were heard and that they weren't leaving until the heat, hot water and electricity was restored.
By Levar Alonzo
Power was restored at the Metropolitan Detention Center in Sunset Park, Brooklyn yesterday, but not before desperate family members tried to push their way past guards and into the front door, and were pepper sprayed by correctional officers.
Over 1,600 inmates have been subjected to inhumane conditions for a week as the center partially lost power. Inmates have been living with no heat, hot water, showers, few meals and were being detained in blackout conditions after a power grid failed for a week.
"This hurts. As any mother you don't want to see your child in that but for them to pepper spray people trying to see their family, it's like a third world country," said Yvonne Murchison, whose son Desmond Murchison, 31, has been incarcerated at the center for a year. "I'd trade places with him any day, that's my child."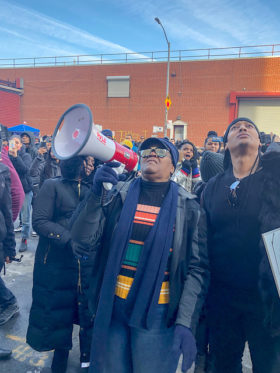 About 200 family members and protestors have held a vigil in front of MDC for four days. They marched, and shouted ""No heat, no peace," they held signs that said, "You are loved." Inmates communicated with family members and protestors by banging on the glass and flickering flashlights.
ctivists, protesters and families were relieved when they finally saw inmates turning on and off their room lights. New York Attorney General Letitia James who toured the facility on Sunday morning told them that everything would be operational by Monday. But with pressure raising, prison officials, contractors and ConED had the building up and running late Sunday night.
Murchison said she hadn't heard from her son in days and she just wanted to see him any way she could. She said guards saw people coming in and met them with aggression. The guards used pepper spray to turn back those hoping to enter the building.  
"Y'all [the media] just getting wind of this, but since last Saturday we been here coming down," she said. "Everyday I came, knocking, hoping to ask my son if he is okay."
Before power was restored, protesters held signs that quoted the 8th Amendment, provides protection from cruel and unusual punishments. Many of the inmates at the prison are serving short sentences for minor offenses or are simply waiting to go to trial.
"We don't care what you in there for, just know that you guys are lacking basic human rights and we are here to get them for you, said Shanduke McPhatter, executive director of Gangstas Making Astronomical Community Changes. "Just keep banging, so we know that you're fine."
Many on hand questioned the urgency and the humane aspect of having people freezing in a federal-run building.
"What surprised me the most in there was the blatant disregard of urgency for anything that was going on," said Brooklyn city council member Jumaane Williams, who toured the facility on Saturday. "We understand emergencies happen, but you have a plan in place, they didn't seem to have one or didn't seem to care."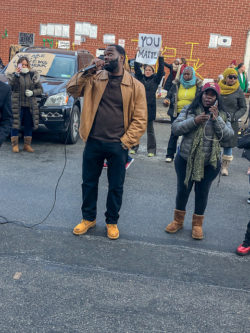 Even with the lights returned, Roy Waterman, who spent a few months at the facility in 2008, remained skeptical. He said that the heating system was not equipped to heat the entire building if temperatures dropped below freezing.
"The building itself is not adequate. Even in 2008 we dealt with the same issues its just that social media wasn't such a big deal and word couldn't traveled so fast," he said. "My concern is that this is just a bandaid and that we will be here again, fighting."