Post Tagged with: "volunteers"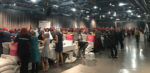 Features / News
Many of the volunteers have unforgettable memories of 9/11 remember.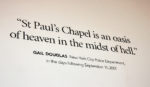 Features / News
For years, people have been coming back to St. Paul's Chapel on the 9/11 anniversary to remember. It stands just steps from Ground Zero, and miraculous suffered no damage.
News / Video
Volunteers came together o plant 20,000 trees at Rockaway Community Park, which was that was ravaged by Superstorm Sandy.