Blood on the sidewalk from the victims of the explosion on Saturday night. Photo by Rebeca Corleto.
When a bomb in a dumpster exploded at 133 W. 23rd St. in Manhattan last night, 18-year-old Diana Shubaiev heard the deafening sound. Shubaiev was on the sidewalk outside of Epidermis, the salon where she works, handing out skincare samples when it happened.
"We heard the noise and saw people running," said Shubaiev. "Suddenly there was like 2,000 people outside."
As people ran up the street, some took cover in the salon. Shubaiev and co-workers that were at the salon helped to calm down the scared and injured people. The degree of injuries varied from very minor to more severe, she said.
"They say there were only minor injuries, and I know why they said it was minor, because no one died and there was no internal bleeding, but there was blood all over the place. It was like a nightmare. " Shubaiev said.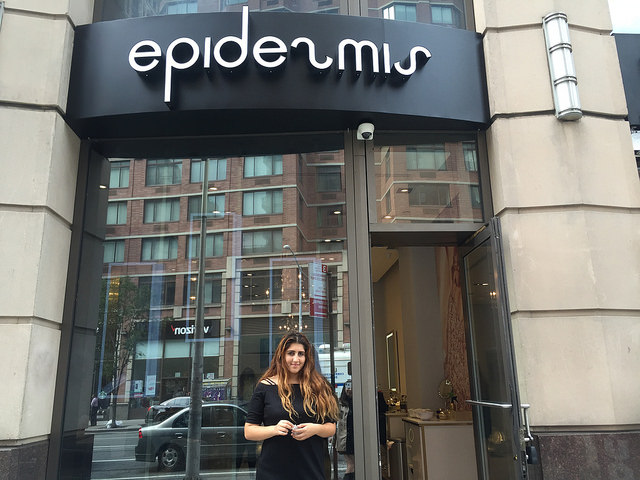 Epidermis is one of the southernmost businesses on 6th Avenue in Chelsea. and one of the few that has reopened following the 8:30 p.m. blast. The police have shut down all activity below 24th St. while the investigation takes place. Twenty nine people were injured in the blast. A second bomb, a few blocks away did not explode.
Shubaiev stood outside the salon today, as she did last night when the bomb went off, handing out samples to draw in business to the salon. On the other side of 24th St. a line of police officers stood guard by a barricade around the area in question.
Shubaiev, who moved from Israel to Ridgewood ,Queens a month ago said that her parents called her, worried for her safety after they saw the news.
"They were crying on the phone, because I was so close to where it happened. I was scared," she said. "In Israel, we don't take it too hard when there is a bomb, because there is a lot of war. If they shut down every time there was a bomb, the whole country would stop."
Shubaiev contrasted her home country's less urgent response to bombings with that of the NYPD after the blast
"The police had everything shut down fast—five minutes—after it happened," she said.
Or Garahian, also 18 and from Ridgewood, works with Shubaiev at Epidermis. He said immediately following the blast, people ran up 6th Avenue, directly past the salon. Garahian came outside and helped scared and injured people, ushering some inside the salon.
"They call this place a crime scene," said Garahian. "I gave bandages to the people who were bleeding. Tried to calm them down before the ambulances got to them. Some people were clearly in shock, so we couldn't go near them."
While Garahian was outside trying to help people, Shubaiev lost sight of him in the crowd.
"Or was here and all of a sudden I couldn't find him,'' she said. "I was very worried and I was looking for him, but then he was there, helping some girls who were scared."
"People say there are probably more bombs hidden," added Shubaiev. "They're still looking for them."