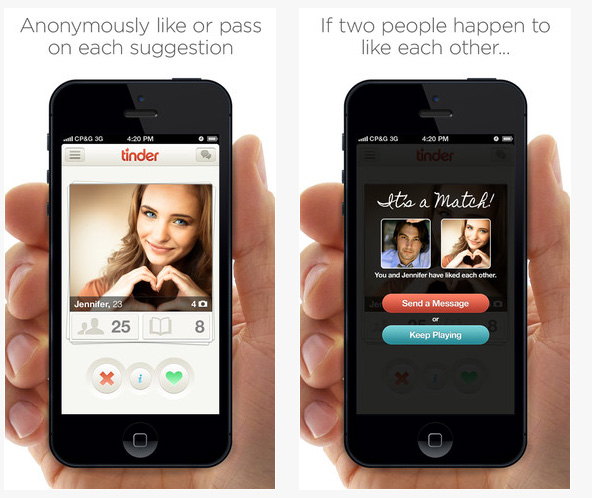 Eve Denton may work full-time for a technology company, but the single 23-year-old has never trusted the Internet to direct her love life. Denton has always steered away from dating sites like OkCupid and Match.com , scared she'll encounter "creepers" and "randos" who will inundate her inbox with inappropriate messages.
Then, a few months ago, Denton discovered Tinder, a dating app for smartphones that came out last August, and has become hugely popular in 2013. Soon after, Denton embarked on her first-ever online date—and was shocked by how normal and pleasant was.
"I was disappointed by how well it went," Denton joked. "I was expecting a much creepier experience."
In a world of PlentyofFish murderers and Craiglist killers, Tinder has been a welcome relief to safety-conscious singles. Here's how it works: using GPS navigation and access to users' Facebook accounts, the app can show you photos of potential romantic partners in your current geographical area. Then, you can choose which way to swipe a "match's" photo—right for hot, left for not.
But here's the added security bonus: only when Tinder detects that two users have approved each other's photos, can those two users message one another; that means more privacy, and fewer scary messages from uninvited strangers. Additionally, Tinder can also show you if you have any mutual Facebook friends with potential matches, making it easy to verify if your soon-to-be sweethearts are who they say they are.
"It's like, 'Oh, we have a mutual friend—you can't be a serial killer," Denton said.
Denton's successful Tinder match was initiated last February, when the San Francisco native was visiting home one weekend (Denton currently works for an electronic medical records company in Madison, Wis.) Bored one morning at home, Denton spent a few hours sorting through Tinder profiles. A few days later, back in Wisconsin, Denton heard from one of the men she'd approved—he had approved her, too, so it was safe for them to message one another. He asked Denton if she wanted to go for drinks the next time she was in San Francisco, and she said yes.
"We met up for drinks, and ended up spending like five hours out, and had like a really great time," Denton said. "We had a ton in common. He was really interesting. It was great. I have no regrets about doing [a Tinder date], and if I actually lived in San Francisco it could have turned into something more."
Steve Dean, 24, is a professional online dating consultant and the creator of dateworking.com, a dating advice blog. Before Tinder, he said that most dating apps were potentially dangerous, especially for female users.
"A lot of the dating apps that were available were missing that really critical element of, can you trust that the person is real?" Dean said. "There's nothing to make me think that you didn't just create this profile by stealing someone else's photo, and you're still going to rape me as soon as I meet you."
Now, Dean praises Tinder for its added safety measures, and said he recommends it to plenty of clients.
"[With Tinder], you have to log into Facebook to use the app," Dean said. "You're immediately accountable to at least any mutual friends you have, and the fact that you can see them right on the app, it makes it so much less creepy. You can't be creepy when you have friends in common on Facebook."
But Dean doesn't just prescribe Tinder to his clients; in January, he downloaded the app to his own smartphone. At first, having just moved to New York from his native Philadelphia, he used the app to meet friends. Now, like his clients, he's using Tinder to find dates.
"I went on a date with a girl recently, from Tinder, [and] it was her first ever date in life," Dean said. "It was really fun. We had Thai food, and then we went up to my office actually to play Ping-Pong. Then we met up a couple times after that, and we're planning another meet up. We're just probably going to continue hanging out…She's getting better at Ping-Pong," he added.
But users beware: no dating app is completely perv-proof. Just ask Raquel Pierre, 20, a junior at James Madison University in Harrisonburg, Va. Her Tinder terror happened one weekend at college, when her roommate invited a Tinder match from a nearby military school to come hang out at JMU. The roommate told the Tinder match to bring three friends with him—enough for Pierre and her other two roommates.
"Already it was just getting kind of like too set up for me," Pierre said. "There were four guys and four girls."
The eight students started drinking at the house Pierre shared with her three roommates. Pierre said it felt weird how the couples started "pairing off" with each other—she wasn't into random hookups.
"This one guy started zeroing in on me," she said. "If I would walk two steps, he'd be two steps right behind me, and he was just kind of creepy and making weird eye contact across the room from me, and trying to dance with me and I'd be running away."
Later that night, Pierre was disgusted to discover that the guy expected to sleep in her room. Panicked, she fled the living room and locked herself in her bedroom to protect herself from his aggressive advances.
"I was like shaking in my room, freaking out—like what do I do?" Pierre said. She was thinking to herself, "There's no way I can sleep here without feeling scared throughout the night that he's going to come banging on my door angrily."
Eventually, Pierre phoned a friend and asked her to come pick her up, so she wouldn't have to spend the night at home, scared for her own safety.
"I had to walk past him to leave the apartment," Pierre said. "I was like really scared, but I just like, locked my door, and just booked it out the front door."
Pierre tells her Tinder nightmare
Pierre firmly insisted that there would be no more dating apps in her future. Still, she understands that though it didn't work out for her, Tinder can still help some people find romance. Of the four male students who came to her house that night, two are still in contact with two of her roommates. One of her roommates took her partner to her sorority's formal; the other couple, Pierre said, is about to become monogamous.
Safety concerns aside, neither Denton, Dean, nor Pierre can deny that "Tindering"—slang for the act of swiping through matches' photos—is strangely fun.
"[People] like very quickly and superficially rating people—flicking through people, and having that cool little effect of faces swishing past," Dean said. "That's why people are drawn to it. You can just be walking down the street Tindering. It's super easy, and you get a lot of validation when someone likes you back. "