In the city that never sleeps, partying until the sun comes out is nearly a right of passage for New Yorkers in their twenties — and Elizabeth Glascoigne, 25, certainly participated in it. This time last year, Glascoigne was spending her evenings drinking at bars and lounges, or at her apartment with a smaller group of friends. 
"Luckily, I didn't have a chemical or biological dependency. So in that sense, I didn't have an addiction," Glascoigne said. "But I did feel like I had a lot of peer pressure and more of a psychological dependency on my identity as a party girl or like the cool girl thing that I wanted to be."
Now, she's hosting a sober pop-up event at Kobrick Coffee Co. in West Village with a crowd of 75-150 people in their mid twenties and upper thirties. Next to the row of canned and bottled CBD-infused non-alcoholic drinks, a short line waits in front of the coffee bar with drink menus in hand: lychee martini, pumpkin spice martini, hot toddy — all remakes of their alcohol infused counterparts. A range of hippies, wellness influencers and ordinary New Yorkers alternate between playing cards, taking pictures against a backdrop of the event logo and mingling with each other. They all purchased tickets for this event for the same reason — to connect with others without the presence of alcohol. 
The term 'sober curious' refers to individuals that classify as just that — people who are interested in reevaluating their relationship with alcohol. The term carries a broad range of interpretations because each person has their own journey in the space. While most people who experiment with this trend take a break from alcohol for a fixed amount of time, some merely try cutting down on their drinking habits and others remove it entirely. The movement began to rise in popularity about three years ago and has since expanded to various markets, like social media platforms, retailers and bars. Now these alcohol-free businesses are at a tipping point and this new form of nightlife may be signifying a larger shift in American drinking culture.
Glascoigne established her new pop-up bar business, Absence of Proof, earlier this year. It's one of several new curated community events for the sober and sober curious community. Other similar venues include Kava Social, an elixir bar in Williamsburg or Listen Bar, another alcohol-free pop-up bar. These locations have opened within the last few years in response to the sober curious movement. 
Glascoigne created Absence of Proof as a way to give people like herself options for nightlife that don't center around drinking. Before she stopped drinking earlier this year, Glascoigne found that alcohol was embedded in every social situation and she felt a disconnect with that kind of routine. 
"I feel like the majority of my weekends were wasted by either being hungover or being out with people that maybe I didn't really care about being out with." Glascoigne said. "It was less like a single night and more so just like a series of weekends being like, 'what am I doing with my life?'"
Glascoigne decided to cut out alcohol as a way to find more meaning in her life. It's not her first time taking a break from alcohol — Glascoigne recalls going through a "wild child" moment in her teens, which she characterizes as a period of heavy drinking and partying. Following that phase, she decided to give up alcohol for the next three years before returning back to drinking after college. Her first experience with cutting out alcohol draws a stark contrast from what it is now. 
"In college a lot of your social life revolves around partying and drinking," Glascoigne said. "So I did feel pretty isolated from my peer group and felt like a lot of people didn't understand what I was doing and maybe didn't wanna be my friend anymore. So that was super hard and I was isolated." 
In the past, Glascoigne felt like she had to give up social activities, which is why she ended up reintroducing alcohol in moderation when she moved to New York City. Given that so many social outings and events revolve around alcohol, she found herself returning to her former lifestyle. Now that she has joined the sober curious community, she feels like she has finally  been accepted for her decision to abstain from alcohol. 
Shea Gomez, a 30-year-old living in New York, who has gained over 35,000 followers by documenting her sober curious journey and hosts a podcast called, NoBoozeBabes, had a similar experience. She originally cut out alcohol because she felt unhappy with the decisions she was making when she was drunk. Gomez says that while she wouldn't try to black out, she would often get carried away during the night and it would inevitably happen because every bar and social activity involved a drink. 
"When I would drink too much and black out, like I would just do things that made absolutely no sense. I would be super emotional." Gomez said. "My hangovers got so bad in my late twenties and I just felt horrible about myself."
When she first stopped drinking, she stayed away from nightlife to reduce temptation. Today, she still goes out partying and dancing with her friends, just without alcohol.
"I'm still out there honey, sipping my club soda with cran or non-alcoholic beer," Gomez said. "And I'm able to get home, even if it's four in the morning."
Gomez feels relieved to get a good night of sleep without worrying about a hangover in the morning. She also noticed other positive changes, like feeling less bloated, losing cellulite and gaining more control of her life. 
These discoveries aren't news to most people. Medical studies proved the negative long-term effects of excessive drinking patterns decades ago, but binge-drinking and partying has remained a social norm among Americans, especially in college. As of 2019, the National Survey on Drug Use and Health (NSDUH) reported that 33% of full-time college students ages 18-22 reported binge drinking in the last month. These kinds of patterns have led to addiction, but also tragic events and misbehaviors. Each year, 1,519 college students ages 18-24 die from alcohol-related injuries, including car accidents. According to the National Institute on Alcohol Abuse and Alcohlism (NIAAA) 696,000 students ages 18-24 are assaulted by someone under the influence and 97,000 students ages 18-24 report alcohol-related sexual assault or date rape. 
People are finally starting to vocalize these issues on social platforms and encourage others to reconsider their drinking patterns. Companies in the Silicon Valley have reshaped their business events and working lifestyle. Pop-up bars and non-alcoholic social spaces have started to enter the nightlife scene in major cities. Influencers, like Glascoigne and Gomez, have gone viral based on documenting their wellness-driven lives without alcohol. 
Glascoigne says that she thinks the sober curious trend took off because the pandemic led people to focus on wellness and reassess their drinking patterns. While the pandemic may have halted many social functions and led to an increase in focus on health and self-care, this concept of intermittently cutting out alcohol as a form of self-exploration and improvement actually goes back to before the pandemic began. 
Tom Santangelo, the Chief Marketing Officer at Spiritless, a non-alcoholic liquor brand that started in 2019, credits the rise of sober curiosity to a few factors. First, he says that many people in the movement are in the post-college period and have reached a life stage where excessive partying and drinking is no longer as exciting or sustainable. Spiritless targets an audience in their upper twenties and early thirties.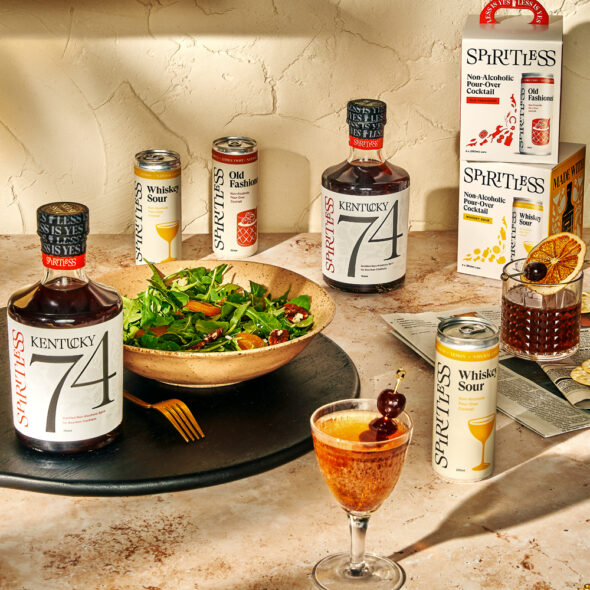 Additionally, the rise of social media has shifted the way people interact with each other and share personal experiences. This has allowed people to voice their opinions in authentic and relatable ways that weren't necessarily tolerated before and couldn't be shared on a wide scale. 
"Millennials and sort of lower millennials if you will, are just more open and transparent online, whether it's Instagram, TikTok, et cetera, about how they're living their lives and what they're doing," Santangelo said. "I think people are picking up trends and themes from other people."
Santangelo says that this shift is even visible in the world of pop-culture. Twenty years ago, celebrities rarely discussed sobriety unless they ended up in treatment because of misuse. Now, mainstream personalities like Blake Lively and Katy Perry have their own non-alcoholic drinking brands and talk about abstaining from alcohol because they don't like it or never wanted to try it. 
Cutting down on alcohol or cutting it out isn't solely glamorized through celebrities though. In fact, the way ordinary people normalize this trend is what has given it its widespread appeal. Garrett Thomas, a 31-year-old investment banker living in New York City, gave up alcohol three years ago because he could no longer ignore the mental and physical impacts of drinking. He began to post about his experience on TikTok, which essentially led him to create his own non-alcohol seltzer called DrinkGoldies.
"Now with TikTok, with this interest based graph, you search 'sobriety New York City'," Thomas said. "And it's like, hey, wait a second, there's this regular person that's just living life and nothing's changed and they're not like a recluse. It's kind of like this really organic discovery."
@garrettfromgoldies

For those hoping to use Dry Jan as a catalyst for more substantial change. I did in 2019 and havent looked back. Sometimes it doesnt happen in a month, there is power in momentum!! #dryjanuary
People don't just have to search up terms like sobriety though, the algorithm is built so that Thomas's videos can end up on any user's "for you" feed, sharing this alternative side of living and socializing that wasn't formerly displayed in mainstream media and film. In the past, Thomas notes that centralized distribution of advertisements through print, radio and television allowed the alcohol industry to create any narrative that made their product sell. Drinking was consistently branded as necessary for people to have fun and relax. That kind of programming encouraged people to associate partying and having a good time with alcohol. 
"That's how advertising used to work up until TikTok. It's stealing the narrative away from alcohol and big alcohol advertising," Thomas said. "With the rise of interest based social media, now I pop on your screen, nobody and a million people can watch a video of me saying, 'hey, dude, I stopped drinking and everything in my life got better'."
Thomas says advertisement distribution has shifted from largely funded corporate projects to average individuals competing for a story that will bring new and interesting perspectives to viewers.
"People buy from people," Thomas said. 
In addition to the digital age colliding with the new emphasis on health and wellness, Santangelo believes that the legalization of other substances has altered consumption habits. In the last decade, vaping, CBD, Marijuana and mushrooms have become more widely legalized across the U.S., which has introduced a new set of options for people looking for mind altering substances.
"It's just changed the ability for you at a younger age to interact, and incorporate some of these things in your life," Santangelo said. "If there are more avenues available to you in a legal forum, there's a likelihood that, you know, something that was sort of the only outlet for social recreation will just shrink in terms of its percent of consumption." 
Even though these substances are gaining popularity, they might not become completely mainstream for a while.  Still, they're entering the market and providing different alternatives to alcohol. Santangelo doesn't think alcohol will go away, but he does think the consumption rates and perception of alcohol might change.
"I don't exactly see it being an avalanche," he said. "It seems more like chipping away, kind of like erosion of stuff starting to grow."
Although many in the sober curious movement view alcohol negatively, they don't necessarily feel that way about all substances. Absence of Proof serves CBD infused drinks and Kava Social offers elixirs, which are drinks that contain medicinal properties. Glascoigne says that she receives frequent messages from people on social media asking if she partakes in microdosing.
The rise in conversation around psychedelics in the wellness space reflect the findings of several new studies that have emerged over the last few years which indicate that psilocybin, the active agent in mushrooms, can be used to treat OCD, substance abuse, and anxiety, among other mental and physical disorders. These findings began to become even more widely publicized when How to Change Your Mind, a Netflix documentary on hallucinogens came out this past summer.
This mindset draws a stark contrast to traditional alcohol recovery programs. Participants in AA groups are vehemently deterred from trying any kind of mood-altering substance out of concern that it could trigger old habits or kickstart a new dependency. Meanwhile, people in the sober curious space have loosely defined goals and don't necessarily cut out the use of other substances. 
Dazee Mae, a 25-year-old recovering alcoholic from Missouri, thinks that this movement is still beneficial, even if people in the community don't permanently give up alcohol and all other substances. She feels this way because people in the sober curious community don't have a chemical and physiological dependency on the substance and she doesn't think they need to approach sobriety from the same extreme perspective. 
Mae has been completely sober for over a year after years of alcoholism that led her to flipping her car three times while drunk driving. Unlike people who experiment with sober curiosity, Mae had to take medication to subdue the effects of withdrawal during her month and a half detox period. She also had to remove all triggers from her household, including mouthwash and vanilla extract, among other unexpected items.
Mae's experience differs drastically from sober curious people who mostly deal with disruptions to their social life and lifestyle, but she believes the sober curious movement represents a major leap for American society.
"I think going online and seeing someone be adamant or even advocate for sober curiosity and just living a less alcohol related life is amazing," Mae said. "Ultimately, if it stays this way, it could be incredibly beneficial."
At the peak of her alcoholism, Mae consumed a baseline of seven to eight shots of 99 proof alcohol each day — and nobody in her life knew. Since her friends viewed it as normal to drink in every social setting, whether it be at dinner or during a night out, they never realized that she developed a problem with it. 
"I'm so confused why my friends weren't like, 'Dazee, why are you showing up drunk to the pregame? Like why are you so sloppy when we've only had three beers at this club?'" Mae said. "I didn't have anyone in my life who made me double think or evaluate my relationship with alcohol."
Mae believes that this movement is causing people to rethink their drinking habits because in the past, people have often dismissed or failed to notice unhealthy patterns. Addiction remains a stigmatized disease and people feel reluctant to put themselves in a category that might attract speculation and judgment. Glascoigne felt this firsthand when she first stopped drinking a few years ago and Reynolds still experiences it with older clients who may not know about the new movement. 
When Reynolds cut out drinking a few months ago, she also recalls feeling awkward on first dates when she had to let them know she wasn't drinking. By normalizing not drinking, people are becoming more comfortable with taking a step back in a socially acceptable way. 
"Before there was such a stigma around, you know, either drinking or not drinking. Like, 'are you sober or are you not?'' Reynolds said. "It kind of removes that because sober curiosity is like a movement of empowerment and it's all about taking a step back and analyzing your relationship with something that isn't good for you."
Despite initial discomfort, Reynolds ended up feeling empowered by resisting the urge to drink in these settings and even found that it made the men she was dating get more creative with their outing ideas. 
Even smaller efforts within this movement, like Sober October or Dry January represent socially acceptable and approachable experiments for people to try out sobriety. These months bring in a large number of participants and since it's publicized so much and viewed casually, people feel less intimidated about trying it out. 
According to a study from food and drink research firm, CGA, 35% of US adults skipped alcohol in January 2022, compared to 21% in 2019. With Dry January around the corner and sober-curiosity rising in traction with young Americans, more people are considering trying out an alcohol-free lifestyle to start off the new year. 
This newfound acceptance and normalization essentially led people like Shea Gomez to start her sober journey in the first place. Initially, Gomez decided to cut out alcohol for three months. This felt like an attainable goal that would allow her to reevaluate the way she was drinking and why she was often leaning on it in social settings.
"I had an end date," Gomez said. "I was like, great, and then I'll go back to drinking. But I felt so good and I noticed so many positive changes that I kept extending it…And I, you know, kept extending, kept extending. And I really was able to realize clearly that this is the best path for me."
Now that the demand for spiritless liquors and non-alcoholic beverages are growing, companies are starting to create more of these products. By having sober pop-up bars and alcohol-free beverages available, people have more opportunity to explore sober curiosity and feel included while doing so, whether that's through a sober event or at a regular bar that offers non-alcoholic options. Now that this movement has steadily increased for over three years, Santangelo says that 2023 will be a telling year for the sober space.
"Non-alcoholic spirits and the non-alcoholic space in general, is sort of at a tipping point right now," Santangelo said. "The tipping point for this category will be when mass retailers start to lean into it, and we're just getting to that point now."
Spiritless started out slow in the pandemic, but kicked off in 2021 when they signed deals with Total Wine and Spirits, Amazon and a few other wine and liquor retailers. As Spiritless and other non-alcoholic liquor brands, like Seed Lip, continue to grow and influencers create brands around this movement, major retailers, businesses, restaurants and workplaces will need to accommodate this new community.