Inside the stadium, the New York Yankees played their longtime bitter rivals, the Boston Red Sox. The Yanks were just shy of clinching the American League Eastern Division and fans packed in hoping to witness Aaron Judge hit his 61st home run of the season, which would tie the all-time American League record.
Outside the stadium, on a gray-tiled path between East 161st Street and East 153rd Street that used to be player parking in the days of the old Yankee Stadium, a different group of performers showed up for work.
For almost every Yankee home game, the same group of musicians, artists and food vendors set up shop hoping for crinkled dollar bills and loose change in their guitar bags and Home Depot buckets.
"I've been here since the old stadium, so about 30-years," said Luther Petty, a 75-year old saxophone player. His stage is a folding chair on the curb of East 161st, directly in front of Yankee Stadium.
A St. Louis native, Petty began playing music early in life.
"My Aunt naturally played piano, she taught me at about four or five-years old," he said. "I have been playing classical since I was five or six."
Now, Petty plays the soprano sax, a higher-register woodwind that he says matches his rhythm and vibe.
"I do a medley of songs," he said. "It changes with the time."
Petty is inspired by jazz and blues artists like Charlie Parker and Lee Morgan; his favorite song to play is "When the Saints Go Marchin' In."
Petty was told by another street musician friend, who had previously done well outside Yankee Stadium, that he should give it a shot.
Since then, Petty has played outside Yankee Stadium through five world series wins and 15 division titles.
Petty likes his spot, the closest "player" to Yankee Stadium who isn't wearing pinstripes.
"I choose the spot that is most lucrative for me," he said. "I've been doing it a long time."
About 30 feet from Petty is Micheal Bailey, a painter from Chicago who has been selling art depicting Yankees and other sports stars outside the stadium for six-years.
Bailey, 63, who also goes by "Zebra", has been homeless for the last several years, but does well enough selling his art he can occasionally travel to other cities to sell.
"I've got money in the bank," he said b. "When I have enough money I get a hotel room. It's hard living."
Bailey says in the 1990's, he had a few businesses distributing and selling art, companies that went under around 2007 and cost him everything.
"I made a whole lot of money from 95' to 99'," he said. "I went all over the country doing conventions and was doing over a million dollars a year. Now I just do my art…I've always been happy doing my art."
He began painting at an early age in Chicago, and his first gallery came at his sister' salon, which was called "Zebra", hence his artist name.
"I've been doing it since I was a kid," he said.
Naturally as a Chicago kid, he grew up a Bears and Cubs fan. Today, his favorite players to paint are Michael Jordan and former Bears Runningback Walter Payton. Football is his favorite sport to paint because its the most colorful.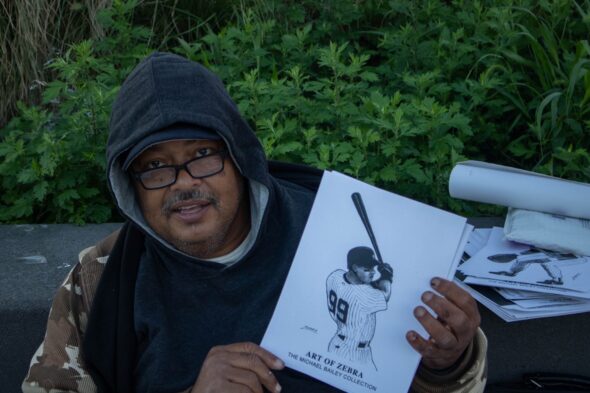 Selling outside Yankee Stadium has been fruitful for Bailey, who likes his spot just off East 163rd Street.
"The NYPD told me to come over here, and they were right," he said. "This is a good spot."
Bailey has given his art to Yankee legends Mariano Rivera and "Mr. October", Reggie Jackson.
"I saw Reggie in Houston," he said. "Reggie came walking out and saw his painting and he came up to me smiling. He was really nice."
Once outside Yankee Stadium, a man came up and asked if he had any art of Yankees catcher Jose Trevino. Bailey was surprised and said he didn't have Trevino, only more prominent players like Judge, Giancarlo Stanton, and Anthony Rizzo.
"It was Jose Trevino," Bailey said. The Yankee catcher bought the art of his teammates and brought them to the clubhouse, according to Bailey.
One of Trevino's teammates, Aaron Judge, had one of the most notable offensive seasons in the history of baseball. On Sept. 23, he was one home run shy of his 61st of the season, which would tie Roger Maris, another Yankee, for the most in a single season in the American League. As of this writing, the Yanks have wrapped up their regular season, and Judge finished with the record breaking 62 trips around the bases.
Yankee fans may have Judge to thank for a historic season, but so does Bailey.
"Judge adds at least $200 to my sales," he said, adding that fans are more likely to buy his Aaron Judge art on nights he hits a homerun.
Bailey isn't the only one on the strip thanking Aaron Judge and his home runs for a bump in revenue. Stuart Stephenson, a Melodica-playing 56-year old Queens native, has also seen more money in his bucket thanks to Judge.
"When they are winning it's a little bit better, they are a little happier," he said. "You have your bad days and your good days."
Stephenson, a self taught musician, plays a medley of songs from Sinatra, Micheal Jackson, and movies, and of course, songs like Take Me Out To The Ballgame.
"I usually play at Citi Field. But when they're out of town, I come here," he said. A Queens native, Stephenson is partial to the Mets.
His favorite player is Darryl Strawberry, a right fielder who played for both the Yankees and the Mets. So when playing in The Bronx, he wears a Strawberry Yankee jersey, and when playing in Queens, wears a Strawberry Mets jersey.
"He was a very good player," he said. "He was a very dominant player."
Once a mailroom employee, Stephenson has been playing both of New York's baseball parks, Yankee Stadium and Citi Field, for about a year.
"I said 'forget it, you know, let me try this and see how it works out'," he said. Stephenson has been successful in both places, making enough money to live on and travel everyday. He likes his spot at Yankee Stadium too, because it's far enough away from other musicians, and it's a good place for people.
"We can't be close to each other because, you know, it'll mess up the vibe in the music," he said. "You meet different people every day. You don't see the same people every day unless they have season tickets, then they recognize you."
The Mets are also in the playoffs this year, which may mean a Bronx day game and a Queens night game.
"I'm gonna try to do both," Stephenson said.
Shawn Tracy, a pretzel vendor with a makeshift grill set up on a cart, also bounces from Citi Field to Yankee Stadium, depending on who's playing.
"I was going to go to Citi tonight, but I came here instead because of Judge," said Tracy, a Toyota car dealer who does this as a side-hustle. "I just know when I need to make money, so I come here."
Tracy saw people selling outside stadiums as a young Met fan growing up on Long Island.
"I saw people when I was young doing it, and I started doing it out of a shopping cart, but I upgraded," he said. "It's mostly just pretzels now. It's easier, the cost is low."
Pretzels are an interesting racket. A ballpark staple, people really only buy one or two on their way out of the stadium, but that gives Tracy an opportunity to get a little extra. In exchange for a sum of pretzels, Tracy trades for whatever the stadium giveaway was, for instance a bobblehead or a replica statue. His favorite is a bobblehead of former Mets pitcher Noah Syndegaard.
The week prior, the Yankees were down three runs going into the waning innings against the Pirates, so fans were exiting early. Tracy swapped 15 pretzels for an unused ticket stub and got into the stadium in the 8th Inning.
"They were leaving, so I asked," he said. Tracy made it in time to see Aaron Judge's 60th home run and Giancarlo Stanton's game-winning, walk-off grand slam.
As for if he ever samples his own product: "I'm kinda tired of it," he said.
Vendors, like Tracy and Alex Garcia, A Mexican immigrant who sells water bottles, take advantage of the stadium's sometimes exorbitant prices, and try to get fans to buy cheaper merchandise or food.
"If you keep it closed, you can take it with you," Garcia shouted, luring in people with 2 for $5 deals.
"It's good, I like the work, it's good for me," Garcia said.
Although some show up before the game, sell their merchandise, then duck out mid-game to relax or get food of their own, and only return to sell to the exiting crowd, guitarist David Spectra doesn't show up until the end.
Other than Thaddeus Adams, Spectra's Hendrix-like shredding is the last thing fans hear before getting to their cars or the Metro-North.
Spectra, who grew up in the South Bronx and now lives in New Brunswick, remembers specifically that he got into guitar "one year after Hendrix died," which would be 1971.
"If you grew Black neighborhood, what Hendrix did was electrify music," Spectra said.
"Music was the last thing I ever thought of. I was supposed to be driving trains to the railroad to subways," Spectra said. "That's the only thing I ever wanted to do when I was young."
Spectra did get to pursue both, driving subways for five-years while pursuing music both on stages and in the street.
"I like the feeling I had when trains could never do that," he said. "So that gave me another opening."
He says there is a craft to choosing the right spot.
"You can find a spot where you can work fast and make money fast," he said, adding that he thought the spot where he has played for the last few years outside the stadium was a lucrative one.
Although, like many of the other performers and merchants who set up shop outside the stadium, there's one thing about the job that attracts Spectra most.
"The fact that I'm my own boss," he said.
The Yankees beat the Sox, 5-4.