President Donald Trump recently imposed tariffs on imported solar energy panels, causing prices to go up by 30 percent and creating a major roadblock for the solar sector, one of the most rapidly expanding industries in the United States.
"It boggles my mind that this president – any president, really – would voluntarily choose to damage one of the fastest-growing segments of our economy," said Tony Clifford of Standard Solar to The Solar Energy Industries Association (SEIA).
According to the 2017 Solar Jobs Census by The Solar Foundation, a nonprofit organization, there are more than 250,271 jobs in the solar industry, a growth of nearly 168 percent since 2010.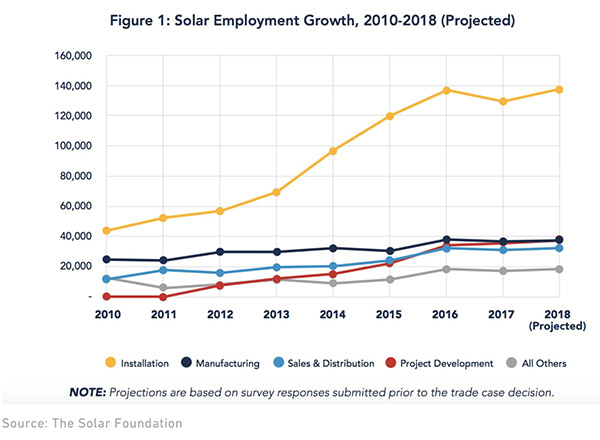 "It's an attempt to slow down the solar industry and the progress it's been making," said Lennon Palomino of 1st Light Energy, "considering there's been over a million solar installs in the last five years in the country."
In many parts of the country, free of tariffs, solar energy is one of the cheapest sources of electricity, it's clean and it takes pressure off the electric power grid.
"A lot of people like the independence that solar energy provides," said David Buckner, President of Solar Energy Systems. "[With solar panels] they can be off grid and that's very empowering to people."
The imposed tariff, however, might hike the costs of solar, harming demand among buyers.
According to GTM Research, in the next four years, seven gigawatts of solar energy that would've been set up aren't going to be built.
"That's the equivalent of about a million and a half homes that could be getting solar, but won't be because of the tariffs," said Dan Whitten, Vice President of Communications at SEIA.
But this may only be the beginning of it. The tariff won't only increase the cost of solar, but it will also affect the progress of the sector in terms of technological advances.
"Innovation is key," said Whitten. "The prospect that storage will be a part of every solar project in the future, this will be delayed because of these tariffs. It's a deferred benefit that's going to take longer."
This kind of technology will be extremely useful in places like Puerto Rico, where Hurricane Maria created one of the largest humanitarian and environmental crisis of the last decades.
"The idea in Puerto Rico is that if you can have backup storage combined with solar, then when the grid is down you can continue to have electric power," said Buckner. "That's a huge thing."
The stated purpose of the tariff is to revive US manufacturing but according to SEIA the imposed tariff will have a very different outcome.
"We think the demand for solar is going to go down, so if that happens then jobs will be lost," said Whitten. "You're not going to see a lot of manufacturing jobs added because the process for cells and panels is largely automated. It's just not clear that the tariff will bring back the manufacturing to the United States."
This is why some believe Trump's act is a mere political maneuver.
"I do think that this whole tariff thing was sort of a marketing ploy," said Buckner. "It strikes me as a way to say you're standing up for US manufacturing and the general public has no idea if that's true or not."
For others, the tariff is an outright deterrent for those choosing to go solar.
"I feel Trump did this not to revive manufacturing plants," said Beth Haskell, who works for Central Park Conservancy and installed solar panels on her roof in Brooklyn years ago. "I think he did this to discourage people from going solar."
The tariff, wasn't a lone, partisan, government push. Two solar companies, Suniva and SolarWorld, appealed to the United States International Trade Commission complaining that the cheaper, imported solar cells were jeopardizing their domestic business.
"Both Suniva and SolarWorld have profit motives," said Davis Saltonstall of Brooklyn SolarWorks. "Suniva, for example, was going bankrupt and it was the last ditch cry for help so they could open up their plants again instead of rolling up and defaulting."
But there's a catch.
Currently more than 95 percent of the United States' solar panels are imported from Asian countries, like China, South Korea, and Malaysia, and while SolarWorld has German-based ownership, Suniva, is Chinese-owned.
"It's ironic they're putting a tariff on foreign panels," said Saltonstall. "When both of the companies that actually requested this tariff are foreign owned."
Even with all the downsides to the tariff, some see the glass half-full.
"We found that the solar tariff has acted as a motivator for both residential and commercial customers," said Joan Herrmann, consultant at Brooklyn Solarworks. "For a lot of people it's an opportunity, when they hear about the tariff they say 'that jerk, sign me up right now!'"
Some trust that the tariff might work in making solar energy a catalyst for anti-Trump supporters.
"Tapping into anti-Trump sympathy might help people go solar," said Haskell. "It's a chance for us who have solar to say to our neighbors 'if you really don't like this guy, here's a chance to stick it to him', plus it benefits you and the environment."
Most of the solar industry is faithful that the tariff will be only a temporary drawback to solar energy.
"It's an annoyance, but it's not going to be the death of the solar industry," said Richard Klein, president and founder of Quixotic Systems. "I guess if they really wanted to sabotage us they could've done a better job, so maybe I should be thankful that did not happen."
Even if, for some, the tariff is going to be more troublesome than for others.
"It's not like solar is going away because of this tariff," said Whitten. "It's a temporary roadblock, but it's a painful one."