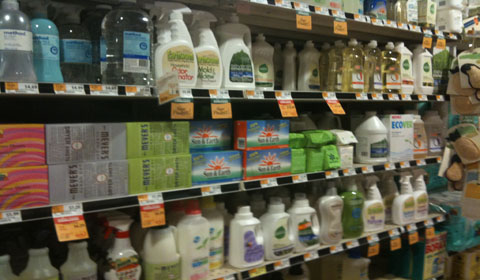 Household cleaning products have arrived on the green scene.
But for eco-cleaners it takes some green to go green. All-purpose cleaners at six dollars and $12 a pop for laundry detergent means consumers are paying more for products that experts say may not be that different from their Clorox counterparts.
"I just bit the bullet and bought my very first bottle of $12 eco-friendly laundry detergent," said Sarah Drew, 25, an anthropology major at the University of Georgia.
Like many college students, Drew lives on a tight budget.  She has to balance her eco-conscience with limited finances.  Her $12 bottle of Seventh Generation laundry detergent promises to be non-toxic and biodegradable.  But the Environmental Protection Agency says these terms are vague and unregulated by the government.  In fact non-toxic has no official definition or third party verification.  Biodegradable can be just as unclear.