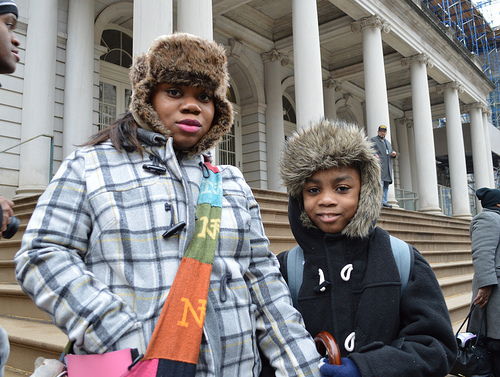 Three months since they were first evacuated from their homes, some Hurricane Sandy evacuees are still homeless, displaced and distressed. This afternoon a coalition of the storm's hardest hit victims, community organizations and advocates gathered for a press conference at the steps of City Hall to voice their pressing concerns over dangerous, unsanitary or unsustainable housing conditions.
Nateisha Laws, 25, of Far Rockaway, Queens, spoke out about the difficulties she has faced as a mother of three residing in various midtown Manhattan hotels after losing her home to the storm.
"Every day is a struggle to obtain affordable food, funds for transportation, even soap and detergent to do laundry," Laws said. "We are not from Manhattan. We cannot afford this luxurious lifestyle. We're in this beautiful hotel but cannot afford basic necessities."
Currently residing at the DoubleTree Suites in midtown Manhattan, Laws said her biggest struggle is sustaining a basic lifestyle as a low-income resident in the affluent neighborhood the city has placed her family in.
"Grocery stores that accept EBT are very few and if they take EBT, it is not for hot meals," she said referring the food stamps her family depends on. "It's very cold outside. I want to send my children to school with a warm breakfast and have them come home to a warm dinner. We have a microwave and a refrigerator. No stove to cook on. No groceries to cook."
Being so far from her home neighborhood has also meant that Laws' 9-year old son, Isaiah Douglas, has missed weeks of school.
"I want stability," Douglas said. "I want to be able to go to go to sleep without fearing that another hurricane is going to happen. My heart has a wide hole."
Many who spoke at the conference expressed disappointment with Red Cross and the city's elected officials for not working fast enough to give them any stable long-term housing assistance.
Alaster Williams, 43, of Coney Island, Brooklyn, said he had been moved four times to different shelters since Hurricane Sandy, leaving him with no choice but to send his children to live with their grandmother in Connecticut. He feels that help is not forthcoming.
""We get no answers," he said. "We've abandoned by Red Cross, FEMA. It seems like they are non-existent right now. We need housing. We need food. A lot of people need medical help, both physically and mentally. There's nobody to turn to."
The organizations representing those displaced, the Coalition for the Homeless, Legal Aid Society, VOCAL-NY, New York Communities for Change, and Legal Services NYC released a plan to be addressed at the hearing that would follow their press conference. Terms included immediate moving people from hotels with hazardous and unsafe conditions to safer places; demands for city officials and the federal government to work together to ensure long-term housing assistance; larger efforts from FEMA to get people out of hotels and into apartments; and more assistance with food and transportation.
Giselle Routhier, Policy Analyst with the Coalition for the Homeless stressed the importance of immediate change.
"It is urgent that the City work rapidly to ensure that people displaced by the storm are guaranteed stable, long-term housing aid and that they are not left to languish in hotels or unsafe settings for months to come," Routhier said.