[flv:https://pavementpieces.com/wp-content/uploads/2009/10/Helennez.flv https://pavementpieces.com/wp-content/uploads/2009/10/Helennez.jpg 320 240]
BLUE GAP, Ariz. – As a young husband and father, Leonard Nez was proud to work in a uranium mine near his home in Blue Gap, Ariz. For the two years he worked in the mine, he made a good living for his family and was able to buy food and goods from the local trader. Because he lived so close, he even allowed the mining company to store their tools in his family's shed. Oftentimes, he would come home with rocks so his children would see what kind of work he was doing.
But Leonard had no way of knowing that these rocks would poison his family.
"I never knew the risk I put myself in by working for the uranium," he said in his native Navajo language, as translated by his daughter Seraphina. "I know I returned home to my family contaminated with the uranium dust. I know I brought it home to my children. There were times I brought home rocks that were uranium, and I would put it on my windowsill for my kids to see the work I was doing. But I was unaware of the risk."
Since then, Leonard and his wife Helen have lost seven of their 11 children — all before they reached the age of 36.
Six died from Navajo Neuropathy, a rare disease caused by exposure to radiation that primarily affects Navajo children. The disease attacks the peripheral nervous system. Symptoms include the shriveling of hands and feet, muscular weakness, stunted growth, infection and corneal ulcers. Forty percent of children affected die before they reach their 20s. The seventh child died from a miscarriage.
Many Navajo children were afflicted with the disease as a result of exposure to high levels of uranium in the air and water in and around their own homes.
From the 1940s to the 1980s, nearly 4 million tons of uranium ore was mined from Navajo land as part of the United States' effort to develop a nuclear bomb during the Cold War.
When the miners left, uranium tailings and contaminated water and air were left behind on tribal land. Like the Nezes, many Navajos were unaware of the health risks caused by exposure.
Helen, 71, and Leonard, 74, lost their first child in 1968.
"(Dorenta) never walked; she had unusual puffiness in her face, her cheeks," Helen said through her daughter Seraphina. "And she was very thin in her extremities. Her abdominal area — her stomach — had enlarged."
Dorenta was just 3 years old when she died.
John was born in 1967 and died in 1970; Claudia was born in 1970 and died 1972; Euphemia was born in 1975 and died in 1978.
Years later, Cedar died at the age of 36, followed by Theresa, who died at the age of 26 in 1996.
All died of Navajo Neuropathy.
"All of the symptoms were identical," Helen said. "Today, I still agonize and think about the past. To have six children die of the same symptoms and not know what it is. … One doctor in Albuquerque said, 'Well, if you live in some sort of contaminated area, that might be the cause.' "
The Nezes' home still sits half a mile from the mouth of the abandoned uranium mine.
And the Navajo government officials say the issue is not theirs to resolve.
"This is a federal government issue," said Patrick Sandoval, chief of staff at the office of the Navajo president and vice president. "People can always do more in every effort. The federal government should have left uranium alone. It shouldn't have been bothered. The Navajo people didn't know what was happening when (the miners) came in. For our part, a bigger effort could be done, but we are doing the best we can with what we have."
Gary Garrison, public officer at the Bureau of Indian Affairs, said the BIA is not responsible either.
"The Bureau of Indian Affairs is not involved with providing outreach to the communities on this particular issue, funds for cleanup, or health care to residents of the Navajo Nation," he said. "Those areas are being handled by other tribal and federal agencies responsible for carrying out those actions."
As for federal government efforts, programs to clean up the contaminated areas are in place.
The Environmental Protection Agency began working to solve the problem of contaminated homes in Navajo Nation in 1994 with the Superfund program, which has provided $13 million to assess contaminated areas and develop a plan of action. In 2007, the Superfund Program finished a comprehensive atlas of each contaminated site and the level of contamination.
Since then, four yards and one home in Church Rock have been cleaned up at a cost of $2 million, paid for by the U.S. government.
In 2007, the EPA initiated the Five-Year Plan in conjunction with the BIA, the Nuclear Regulatory Commission, Indian Health Services and the Department of Energy. These groups also worked closely with the Navajo EPA.
The Five-Year Plan lays out a procedure to assess the severity of the contamination and a plan of action to address it. It was the first coordinated effort of federal and local groups to deal with the problem. One of the first initiatives was to require the owner of the Church Rock mine to conduct a cleanup.
Regardless, these programs came too late for the Nezes.
Helen remembers the uranium mining all too well.
"I do recall the blasting," she said. "I recall the dust filling my dishes. We didn't have laundry close by. Sometimes I washed my children's clothes with (my husband's) contaminated clothes."
When their children first became sick, Helen and Leonard visited doctor after doctor, searching for answers.
Instead, they were faced with accusations from local doctors.
"The indication was, 'Is there incest?' " Helen said. " 'Is your husband related to you? Is he your brother, your uncle? Is that the reason your children have these symptoms?' They never apologize, only the speculation of incest."
Further complicating matters, Leonard's involvement with the mine was off the books. Miners were paid in goods and food for their families. They never received either paychecks or cash for their work. Now, there is no record whatsoever of Leonard's time in the uranium mines.
"Working for the uranium, I was only given a piece of white slip, a piece of paper, to take to the local store to purchase food and other things," Leonard said.
With no record of his work history, there is little hope for the Nezes to gain compensation for the loss of their children.
"My heart is broken and I blame the government," Leonard said. "I think back now, if I didn't expose my children to the uranium, I could have had a big family. Now I am surviving only four children. This is my biggest regret, to work for the uranium."
Chris Nez, 44, is one of Leonard's surviving children.
[flv:https://pavementpieces.com/wp-content/uploads/2009/10/chris2.flv https://pavementpieces.com/wp-content/uploads/2009/10/chris2.jpg 320 240]
He is angered at the way the Navajo Nation is treated by the federal government.
"This has been going on for quite some time," he said. "One thing that really bothers me is we say 'our land,' but technically it's not our land, this so-called Navajo Reservation. We do not own anything on it at all. Not even the land. All we got is probably three inches of topsoil. If there's any oil, if there's any kind of water, it belongs to the government. And yet, they contaminated the whole area. And now they're just playing hush-hush."
The legacy of Navajo Neuropathy spans generations in the Nez family. Helen's great-grandson died in June of the same disease that claimed six of his aunts and uncles.
Even 17-year-old Floyd James Baldwin, Helen and Leonard's grandson, sees what uranium has done to his family and to Navajo tribal lands.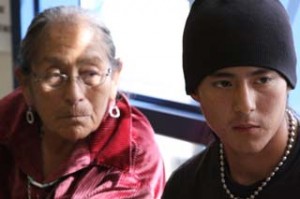 "Well, growing up, I saw some pretty weird things," he said. "When I was a child … getting my diaper changed next to my uncle — my own uncle, who's a full-grown man. And I was just a little kid. I didn't know it was wrong or anything. But as I grew up, I noticed that's not normal. That doesn't happen." Loss of kidney function is another side effect of Navajo Neuropathy.
Floyd worries about the same thing happening to him. Still, he can't imagine leaving the reservation.
"I think about (the effects of uranium on me) every time I drink anything," he said. "(But) this is where my family's at, and we've always been here. I can't just leave this place."