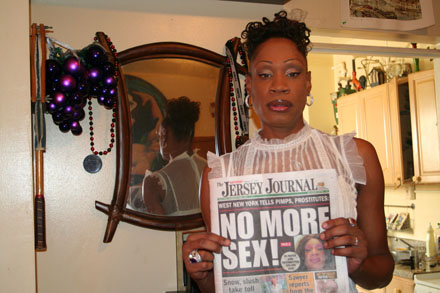 The transgender community won a small triumph this week in a larger battle to gain fairer media coverage, activists said.
The Jersey Journal, a Jersey City-based tabloid, yanked an article about a transgender woman from West New York, from its Website earlier this week after a two-month-long battle with advocates.
The coverage of the prostitution arrest of Coy Gordon, 42, sparked outrage among transgender activists. In turns, they faulted the reporting as exploitative, dangerous and error-plagued, as first reported by PavementPieces.com last month.
In the Web version of that Feb. 27 article, gender pronouns such as "he" and "his" were used to describe Gordon, who has lived as a woman for the past 30 years. Advocates also argued that the disclosure of Gordon as a "transsexual" in the headline and in the phrase "transsexual sex romp" was gratuitous and exploitative.
But of most imminent concern, was that it listed Gordon's address by way of an interactive Google map, according to Melissa Broudo, a consulting attorney at the Sex Workers Project, and Gordon's lead advocate.
Broudo described the newspaper's decision to pull the story as a somewhat rare but considerable victory.
"It's not to say it never happens, but newspapers are very protective," said Broudo. "But by an large there are limitations [to free speech]—especially when someone's safety is involved."
Broudo's back-and-forth with the newspaper consisted of phone calls and written correspondence, and utilized a two-prong approach. First, she focused on the risks the article posed to her client, which yielded the removal of the Google map in March.
Next, she highlighted "erroneous" phrases that cast aspersions on her client, particularly in the lead sentence: "Coy S. Gordon expected it to be a normal night of work – a transsexual sex romp with 'john'…"
"How would they know how often she has a sex romp?" said Broudo.
While Margaret Schmidt, managing editor at the Jersey Journal, refused to comment about the article's removal. Broudo characterized her dealings with staff as cooperative and "thoughtful."
Gender rights advocates were elated by the turn of events.
They hoped it would usher in a bright, new chapter in the Journal's coverage of the transgender community, which has until now seemed to be favor bad news only, according to Babs Casbar Siperstein, president of the Gender Rights Advocacy Association of New Jersey.
"This is great news for a change!" said Siperstein, a Jersey City native. "It shows some semblance of fairness and journalistic responsibility."
The link that once lead Journal readers to the controversial article now draws a blank screen on the newspaper's Website, Gordon, who is still contesting the charges in court, saw it as anything but a clean slate.
"I was already an eyesore in this neighborhood," Gordon said. "Now they've turned me into a billboard."