by Mariam Elba
A new poll indicates that American Muslim voters are likely to vote at higher rates than other groups in the Nov. 4 elections.
The Council on American-Islamic Relations released a survey Friday of 1,500 American Muslims in six populous states; 69 percent said that they plan to vote in this upcoming election.
According to the United States Census Bureau, during the 2012 elections there was a 66 percent turnout among African-American voters, 64 percent turnout among non-Hispanic white voters and 49 percent turnout among Hispanic voters. The Pew Research center additionally stated that there has been a gradual decline in voter turnout among those who identified as white Protestants and white Catholics. The total voter turnout was 59 percent in the 2012 elections.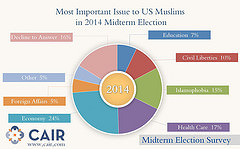 The CAIR survey, which also asked what issues the participants deemed most important, covered Muslim voters in California, Florida, Illinois, New York, Texas and Virginia. More than half, 51 percent, said they would vote for Democratic Party candidates; 23 percent declined to state their party leanings. This is projected to be part of a trend in high voter turnout among American Muslim voters through the past decade, as 81 percent answered that they would definitely vote in the 2012 election, and 89 percent said they vote regularly in a survey held during the 2006 midterm election.
The American Muslim population, according to the Pew Research Forum, increased from about 1.7 million to 2.6 million between 2000 and 2010. The Pew Research Center estimated in 2014 that there are about 2.75 million American Muslims throughout the country, and 600,000 to 1 million of them are New York City residents.
CAIR issued a press release on Thursday announcing its "Get Out The Vote" campaign to reach over 100,000 households in states estimated to have the highest concentrations of American Muslims — California, Florida, Illinois, New York, Texas and Virginia. Other efforts this election season include telephone campaigns by the Arab American Association of New York, as well as initiatives to get more American Muslims registered to vote.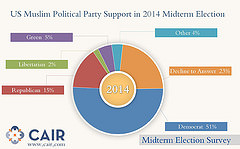 Robert McCaw, government affairs manager at CAIR, said that efforts to encourage American Muslims to vote were similar to outreach to other faith and minority groups in the United States. Reaching out to houses of worships and holding candidate forums within community spaces are frequent methods to encourage participation.
According to the CAIR survey, the issues that American Muslims said they were most concerned about parallel the concerns of many other groups of American voters. Those issues include the economy, healthcare and education. U.S. foreign policy ranked much lower; only 5 percent of participants said that was their most important issue this election.
The CAIR survey highlights the increasing significance of Muslim voters in U.S. elections.
"There are a core of independent Muslim voters whose votes are up for grabs." McCaw said, adding that politicians, particularly Republican candidates, should not keep alienating Muslims and advocating for what he calls "anti-Muslim positions."
From their participation in the elections, and the issues they are most concerned about, American Muslim voters are similar to other voting groups and are just as invested in the future of their country as other Americans.