Ana Maria Jemenez at the celebration of the Day of the Dead in Corona Park, Queens. Photo by Maria Panskaya
For Ana Maria Jemenez, celebrating the Day of the Dead on November 2nd in Corona, Queens was not all about cheer and fun. She, along with other immigrants from Mexico, Columbia, Peru, Dominican Republic and El Salvador, instead talked about their concerns regarding the upcoming midterm elections and it's effect on the immigration reform.
The DREAM Act, which was first introduced in 2001, provided some residential rights to illegal immigrants under the age of 35, allowing them to get work authorization and educational opportunities. So far only 15 states have their versions on the DREAM Act, including New York State.
"I brought my son illegally to this country," said Jemenez, 39. "He is now 13 and goes to school. I want him to have good education and good future."
Jemenez, unlike her son who is living in the U.S. under the DREAM Act, is facing deportation. Her case has been with the Immigration Services department for  two years. She lives in fear that one day someone would knock on her door and deport her back to Colombia.
Living in fear and barely making ends meet while working two jobs, Jemenez refuses to stay ignorant about her rights as an undocumented worker and constantly follows any developments on immigration reforms as well as senate, house, presidential, or even local government elections. Never use illegal alien..it is considered offensive.
"Yes, I cannot vote," said Jemenez, who only has a little trace of a Colombian accent. "But it doesn't mean that I don't care. I always hope that immigrants like me would get more rights, just like President Obama promised."
Jemenez, said she understands how the U.S. Senate and House of Representatives operate and is very concerned about the outcome of the midterm elections..
"If Republicans win, we, and I mean all immigrants, are going to be deported," said Jemenez. "Republicans don't like Latinos. But we work hard, we love this country. The jobs we do, American would never do."
Jemenez works at a local grocery store, doing everything from scrubbing floors to working at the cash register. The storeowner pays her $6.75 per hour. Since she doesn't have legal papers there is nobody she can complain to. According to Jemenez, if Republicans win the senate she will lose the little that she has now.
Miriam Guzman, 42, from Mexico, works as a fulltime babysitter for $10 an hour. If she weren't an illegal immigrant, her salary would be $15 an hour.
"Family I work for is rich," said Guzman. "They hired me because I speak Spanish and their children love me. They pay me less because they know I have no papers and no choice, but to accept what they give me."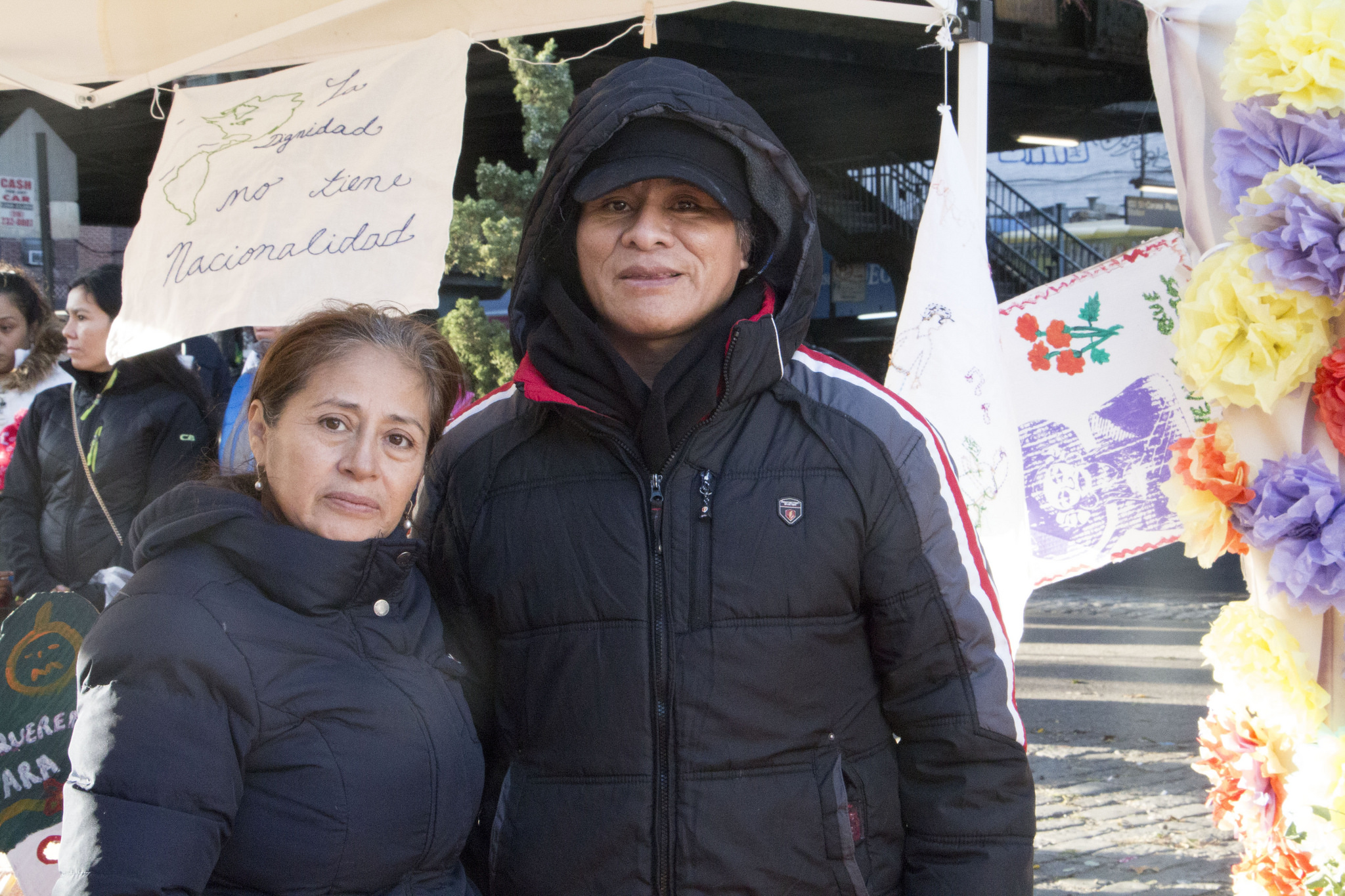 Miriam Guzman and her fiancé, Greorge Pateka. Photo by Maria Panskaya
Despite the fact that the midterm election turnout is usually quite low, with turnout of eligible voters never going beyond 50% according to the Center for Voting and Democracy, undocumented immigrants from Latin America fully understand that midterm elections can be even more important than the presidential election.
"What people don't realize is that the outcome of the midterm elections will determine the future of the country and possibly effect the presidential election outcome in 2016," said Alan Acosta, 34, a Hispanic community activist and volunteer, Queens. "I received my green card a year ago under the DREAM Act, after a nine-year-long battle with paper work, and I'm going to vote on Tuesday. Sometimes one vote can make a difference."
Acosta came to the U.S. illegally from Dominican Republic when he was 19, before the DREAM Act was introduced. But the act eventually made him eligible for getting social security, then work authorization and citizenship.
"This was a dream come true," said Acosta. "I want every immigrant to experience the joy and relief I experienced a year ago."
According to Pew Research Center, the percentage of eligible Hispanic voters is dropping by seven percent each year nationwide. One of the issues of low turnout among Latinos is underrepresentation.
"We have a black president and the majority of congress, senate and house officials are white," said Jemenez. "I want to see more Hispanic representatives. I feel like Latino population doesn't vote that much is because there is nobody we can vote for."
According to Migration Policy Institute, undocumented immigrants from Latin America represent 46% of all foreign born immigrants, who currently reside in the U.S., with 28% of them being Mexicans. Indians and Chinese, along with other Asian countries, represent 29% combined together. The other 25% are immigrants from Europe and Africa.
All immigrants who cross the border with the U.S. on illegal terms, whether smuggled on a ship or train or traveled with fake passports, have one dream in common—becoming the U.S. citizens. While the Obama administration has expressed strong support for numerous immigration reforms, like the DREAM Act, the majority of those propositions were voted down in the Senate.
In May 2014 New York State tried to expend the DREAM Act policy by enacting free college education to immigrants, but the initiative hadn't been passed.
"It's already hard enough for the president and his aids to pass any bill and to get it approved," said Acosta. "And it's going to be even worse if Republicans win the Senate. The next two years are going to be hell not only for the president, but also for all immigrants."