In the midst of a global pandemic, President Donald Trump suspended immigration into the US for 60 days, last week. This weekend, a coalition of advocacy groups has filed a lawsuit asking a federal judge to temporarily restrain the order.
After first announcing the plan on Twitter, President Trump signed an executive order on Wednesday last week, suspending the granting of green cards to certain applicants for the next 60 days. Trump says that this order will protect American workers.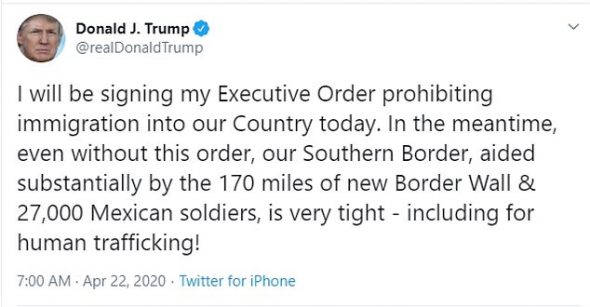 "This will ensure that unemployed Americans of all backgrounds will be first in line for jobs as our economy reopens," said President Trump in a press conference last week.
The Justice Action Center (JAC), the American Immigration Lawyers Association (AILA), and Innovation Law Lab have filed for an injunction to halt the order until a decision is reached in a prior lawsuit filed in 2019. The earlier case challenges the White House's ability to ban immigrants who cannot prove their ability to obtain health insurance within one month of entering the country. The court issued a temporary injunction restraining this order, but the final decision is still pending. 
In a public statement, the plaintiffs have described Trump's most recent executive order as "another unlawful attempt to upend the family-based immigration system that is fundamental to our society and shared prosperity."
Democrats have also criticised the executive order, saying that Trump is capitalizing on the COVID-19 pandemic to push his anti-immigration policies. 
"Make no mistake: this executive order is not about protecting American workers," said House Judiciary Committee Chairman Jerrold Nadler, D-N.Y., and Immigration and Citizenship Chairwoman Zoe Lofgren, D-Calif. in a joint statement.
"The only thing it really accomplishes is keeping families apart. It is just an excuse to advance President Trump's and [White House adviser] Stephen Miller's anti-immigrant agenda."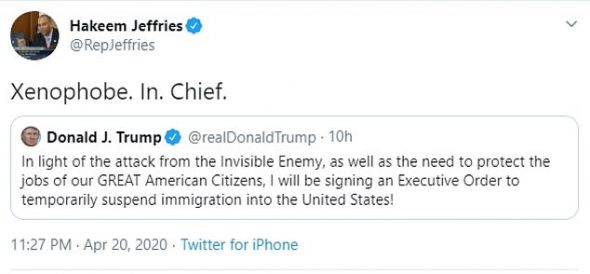 Democrats have also said that the order is not what is needed to solve the current economic crisis.
"I think it's another diversion," said New York Senator Chuck Schumer. "I think the President ought to stop these diversions. What we really need is a focus on testing, a focus on contact tracing, so that we can open up again. That should be the focus."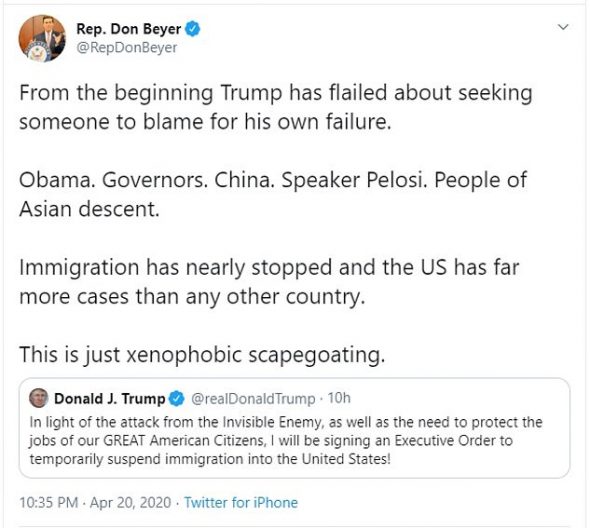 But hardline anti-immigration advocates are also not satisfied, saying that the order excludes too many visa categories and will have little impact. In particular, they are disappointed that temporary workers, including those on H1-B visas for specialized skills, are not included in the order.
"The president's decision to put a temporary halt on immigration was a prudent act in light of the unprecedented job losses, said Dan Stein, president of anti-immigration organization Federation for American Immigration Reform (FAIR). " But it will be rendered meaningless if large flows of guest workers continue unabated."
"The measure on its own will have little effect," wrote Mark Krikorian, Executive Director of conservative think-tank, Center for Immigration Studies' (CIS'), in an op-ed that called the order "barely a start." 
"Failing to pause this program before the next cohort of foreign workers arrives October 1 would make a mockery of the president's claim to want to preserve American jobs for American workers," said Krikorian.
The executive order applies only to those green card applications filed from abroad. It does not apply to applicants who are spouses or minor children of U.S. citizens, or to any applicants filing from within the United States. It also will not apply to immigrant investor visas or to temporary visas (including student visas and H-1B visas).
Despite these exceptions, the Migration Policy Institute estimates that the order will block 26,000 green cards each month and if extended, as Trump has warned it may be, the new policy could end up impacting up to 660,000 people.
Acting Homeland Security Secretary Chad Wolf said that this executive order is a first step, suggesting that further immigration restrictions may well be implemented.