Following complaints and pleas from parents, the Corona-Norco Unified School District (CNUSD) Board in California passed a resolution to move forward with in-person schooling as soon as possible, pending state approval. This decision, which occurred during a Special School Board Meeting on Sept. 8 only applies to elementary school students.
"I want them to understand that this is a process that is laid before us via the Governor," CNUSD Board Member John Zickefoose said prior to passing the resolution. "I don't want parents of middle schoolers and high schoolers to think we don't care about them." 
Governor Newsom released a Blueprint for a Safer Economy on Aug. 28. The blueprint contains a tier system that identifies the risk level of each county based on the number of new cases and the percentage of positive tests in the area. CNUSD is located in Riverside County. As of September 10th, Riverside is in Tier 1 (Widespread Risk) and can't start in-person schooling until it reaches Tier 2 (Substantial Risk).  School districts that haven't reached Tier 2 are allowed to apply for a waiver to start limited in-person schooling for grades TK-6. CNUSD will start preparing the waiver application now that the Board has passed this resolution.
"The only schools around us that have [applied for the waiver] are private schools, no public schools have applied yet," Allison Root, the mother of , Maddie Root, a third grader in the district said. "No one has applied and everyone is wondering why."
The application requires extensive proof of compliance with the state safety guidelines for schools. It also requires prior consultation with labor, parent, and community organizations. Although the teachers 'union hasn't started negotiations, this requirement has led to speculation among  parents that the teachers' union is causing a delay in the process. 
"These unions fight and fight and fight and say they can't open," an unidentified parent said during the public comment portion of the school board meeting.  "I think this is truly an injustice. People are still going to the grocery store, people are still going to target, everyone seems to be doing that safely." 
Meg E'amato, who has taught in the district for 22 years, expressed a number of concerns about reopening.  She is not against in-person schooling and understands that parents want their kids to return to campus, but she has serious reservations. She believes that some parents aren't seeing the big picture.
"A lot of our members really want to get back on campus and I just want to make sure that everyone is safe and following the protocols that we have established," Meg E'amato said after the school board meeting. "There's so many things that go into these processes. But I think people like to try to pick one thing to put all their anger towards."
Some staff members have already returned to campus. During this time, a number of staff members have contracted COVID, and according to E'amato, some teachers have witnessed and reported staff protocol breaches.
"I feel like the district is following the protocols, but maybe not all the sites are following the protocols," E'amato said. 
The debate about when and how CNUSD should return to in-person schooling has been emotionally charged as teachers witness children struggling and falling behind and parents attempt to juggle the challenges of supervising remote learning.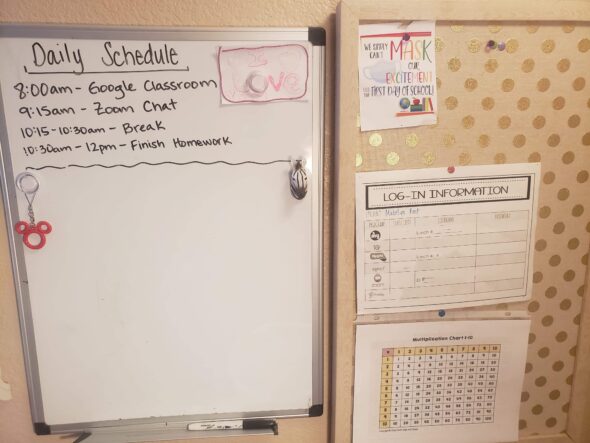 "I feel like I have to be there, she's in third grade, typing takes forever," Allison Root said of helping her daughter Maddie complete her homework assignments. "I know if I did have a job right now it would be way more stressful. It's horrible that [COVID] happened and I did get laid off, but I can't imagine having to work and also juggle this, with her, because I'd get no sleep at all. We need to go back to school."