It's a bit about 12 days since  New York City entered Phase Two in its battle back from the coronavirus epidemic. Gov, Andrew Cuomo said the reopening would be dictated by a set  criteria and the city has met those goals.
And things seem to be moving forward despite today's announcement that indoor restaurant dining is postponed indefinitely.
According to more than 57,000 records in the 311 complaint record real-time dataset, Pavement Pieces found that the daily social distancing related complaint numbers were lower in the reopening, compared with the period of lockdown.
 Here's a list of top ten locations where  social distancing violations were reported in 14 days of  Phase  One.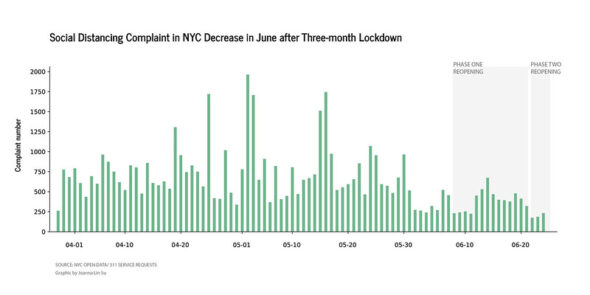 During the three-month lockdown, Brooklyn witnessed more social distancing complaints than the other four boroughs in the city. But with the city reopening its manufacturing, wholesale supply chain, and curbside pickup, Manhattan has more complaints  followed by Brooklyn and then Queens. Commercial places or stores see more social distancing violations, while people in playgrounds or parks tend to report less incidents.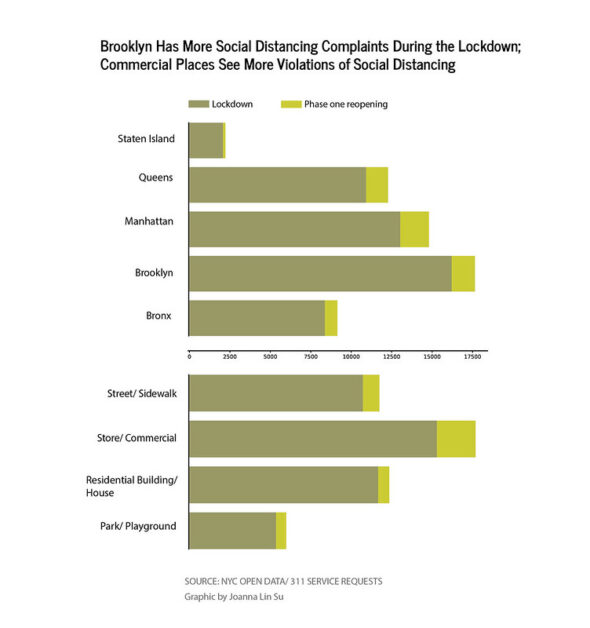 Below is a list of the top ten locations with the most social distancing  violations reported in  14 days of  the Phase One reopening.