U.S. Immigration Customs Enforcement (ICE) recently announced that international students that are enrolled in fully online courses will face deportation.  
Students can transfer to another institution or must leave the country. 
Many of the universities going online only are in California where the coronavirus  cases continue to grow.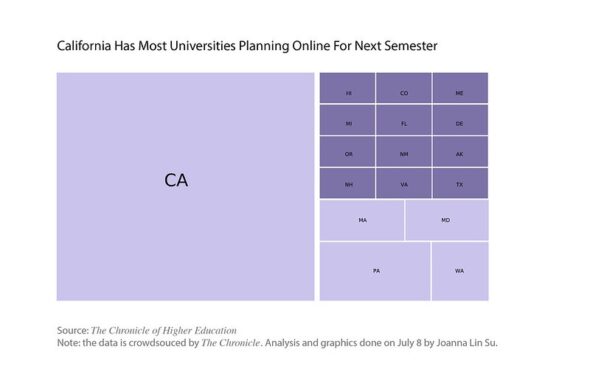 On July 8, Harvard University and Massachusetts Institute of Technology (MIT) filed a lawsuit against the Department of Homeland Security and the U.S. Immigration and Customs Enforcement to stop the policy. 
More than 50 universities are filing either amicus briefs or lawsuits opposing the new ICE regulation, according to Ubadah Sabbagh, who voluntarily crowdsourced and fact-checked university announcements over his twitter account. His twitter thread amassed over 5,000 comments and retweets with university internal letters or official announcements.
Universities filing amicus briefs/lawsuits against new ICE regs by my count:

– Cornell
– Dartmouth
– Georgetown
– Harvard
– Hopkins (forthcoming)
– Michigan State
– MIT
– Northeastern
– Northwestern
– Penn
– Princeton
– Purdue
– Stanford
– U of California
– UMich
– USC
– Yale

— Ubadah Sabbagh (@neubadah) July 9, 2020
According to The Chronicle of Higher Education, more than half of the universities are planning for in-person teaching for next semester. Around one fourth of the universities are proposing a hybrid model and about  9% of  are planning for a fully online model.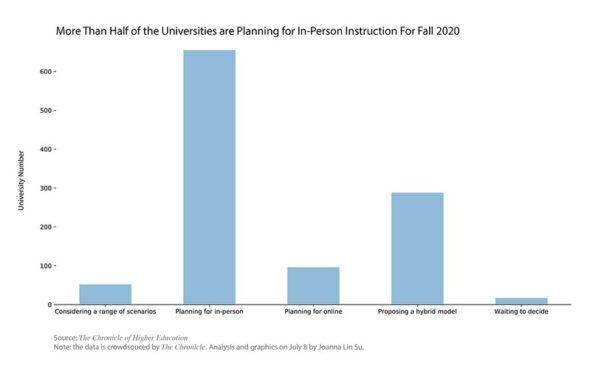 Data provided by the Department of Commerce shows that international students make up 5.5 percent of the total U.S. higher education population, contributing $44.7 billion to the U.S. economy in 2018. China is the largest source of international students in the U.S., followed by India, South Korea, Saudi Arabia and Canada.
 Incoming international students are also having difficulty  gaining access to  F-1 visas because of  U.S. embassy shutdowns.
Ke Li, an incoming NYU journalism graduate student said she decided to defer her offer till next year.
 "I have to take online courses from China if I accept the offer," she said."Students like me who are not in the states only get the choice of being fully online." 
 Li did not feel the government's response to contain and mitigate the public health crisis was adequate.
"It is safer to wait another year to see what is coming," she said.